Leigh Food Festival & Apple Press All Set For Saturday 22nd September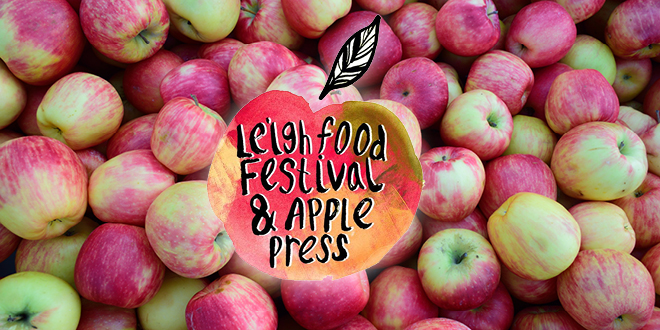 The Leigh Food Festival & Apple Press this year takes place on Saturday 22nd September at The Plough PH on the edge of the village green at Leigh in Surrey (RH2 8NJ for SAT-NAV).
[one_half]
The festival attracts well-known suppliers including Chalk Hill Bakery of Reigate, the Strood Green shop, Leigh Heritage's jams and chutneys, Norbury Blue Cheese, Cupcakes by Sugar & Sparkle, honey from local beekeepers as well as artists Rachel Dinnage and Elanor Wexler.
Leigh Lollipops Nursery will have a stand offering children's activities, the nursery has been established at Leigh Village Hall for over 40 years and is registered with OFSTED on the Early Years register to provide care for children aged 2 up to 5 years old. The Nursery has an OFSTED rating of 'Good' and has recently been awarded a 'Top 20 Recommended Nursery 2018' award, being rated and recognised as one of the top 20 nurseries in the SE of England.
Seasonal apple pressing will be at the heart of the festival and visitors are warmly invited to bring any or all of their surplus apples for pressing.
"Many people with apple trees in their gardens don't always know what to do with a surplus crop. We have the answer – box them up and bring them to the festival and see our apple pressing system in action" says organiser Charlotte Kinloch.
The full production line will be on show for visitors, from customer apple reception to filling the macerator which produces apple pulp. Next to the apple pressing phase when the juice is extracted, on to the bottling sequence that brings the finished product in 1 litre bottles to the sales counter for purchase.The process takes about 15 minutes, the juice is truly 'fresh from the press' – and invigorating.
[/one_half][one_half_last]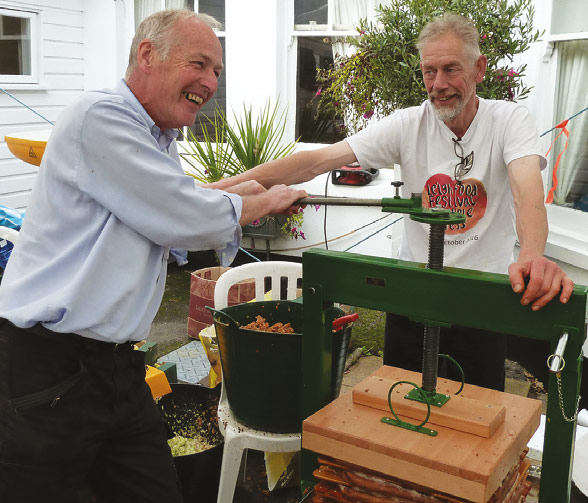 A welcome return to Anocalypse Now, the Appalachian Clog Dancers and their bluegrass band Rawbones who will have entertainment slots at 12pm and at 3pm.
Hot and cold food will be available all day at The Plough including the popular goat burgers introduced at last
year's festival. Goat meat is supplied by Oakleigh Garden Farm in the village.
Entry to the festival is free and there will be plenty of free parking along Church Road (RH2 8NL). Keep in touch through social media, see: www.facebook.com/LeighFoodFestivalApplePress/
All enquiries to Charlotte Kinloch at: leighfoodfest@gmail.com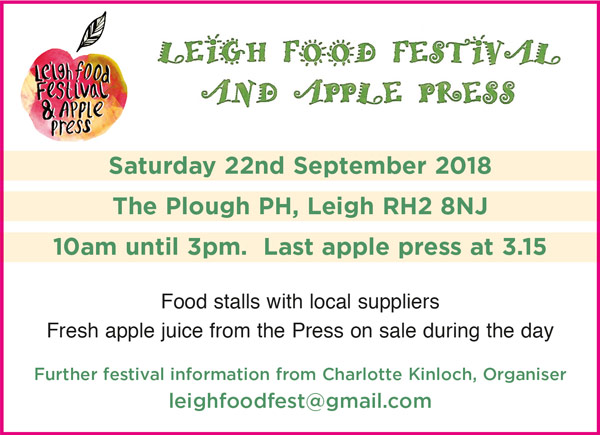 [/one_half_last]
Advertorial