Ready for the Rugby World Cup!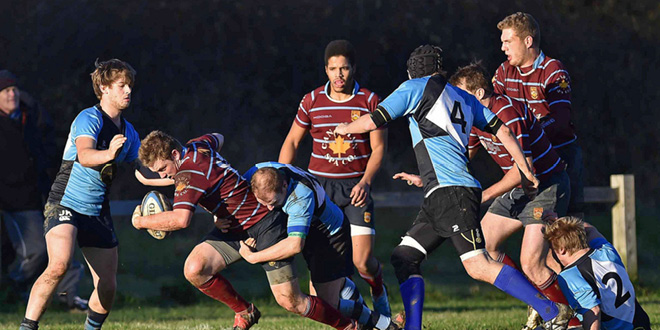 Next month signals the start of the Rugby World Cup (18th September – 31st October), so what better excuse was there to chat to our local long-standing club, Crawley Rugby Football Club, about their exciting plans and sixty-five year history?
The group started in 1950 and was based at West Green playing fields until 1993, now the 300 amateur members play in impressive facilities at Willoughby Fields in Ifield – much to the envy of visiting groups, as the club's hon. treasurer Mark Keeley explains:
"The new clubhouse and pitches are the envy of most clubs that visit; the club has hosted many county and national sides over the years including England U19s when Johnny Wilkinson played for them."
Welcoming players of all ages and abilities, the group is run entirely by volunteers, who hope to bring the enjoyment of playing rugby to all – regardless of age, gender or capability.
"As an amateur club we are run purely by volunteers, giving their free time and we rely on the members subscriptions to pay the way, but, being an amateur club doesn't mean that we lack ambition," Mark says, "On the contrary! We are determined to play the best standard of amateur rugby that we can, to raise the profile of Crawley RFC and the game in a positive manner."
The group's members, not only enjoy playing rugby, but also the social aspect of the sport too, with social events, fundraising and comedy nights taking place regularly:
"We are pleased to host a quarterly Sunday afternoon social event dedicated to the support and well-being of young adults with learning disabilities. This is organised working alongside a number of local charities including The Aldingbourne Trust."
"Our clubhouse, open seven days a week throughout the year, is the hub for a variety of events including fundraisers, comedy nights, meetings and social clubs and is available for private hire. We also have both pool and darts teams playing in competitive mid-week leagues."
In the run up to the Rugby World Club, CRFC are planning events to get the whole of the community involved, with many fun activities – that don't necessarily mean visitors need to play rugby…
"On 2nd August, we'll be holding a touch rugby tournament, involving local businesses and community clubs," the club treasurer tells us. "During the build up to the RWC itself we will have activities around the warm-up games and then every match from September 18th through to October 31st. We'll be having quiz, race and bingo nights before many of the live games."
Find out more about Crawley RFC by visiting: www.crawleyrfc.co.uk or contacting Mark on: mkeeley@lineone.net or 07967 169121.