West Sussex Cancer Survivor Gina Puts The Miles In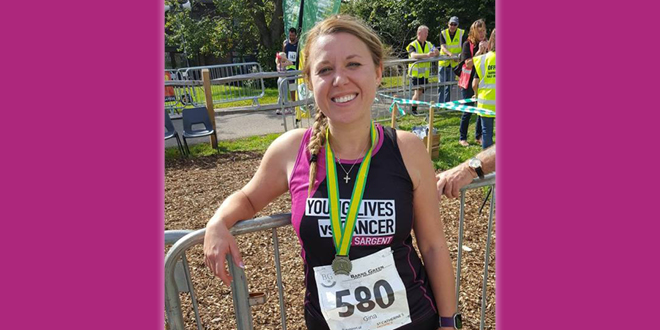 A cancer survivor from Horsham who completed the London Marathon earlier this year to mark ten years being in remission from ovarian cancer is now planning to put the miles in again by taking on a challenge which could be a Guinness World Record.
Earlier this year, Gina Leadbeatter, 35, took part in the world-famous London Marathon for Clic Sargent, a charity which supports children and young adults with cancer. She secured a charity place despite a competitive field with a record total number of 386,050 applicants for just 48,000 places in the 2018 London Marathon.
Gina was 25 years-old when she was diagnosed with a rare cancer called Immature Granulosa Cell in 2008, at the time her eldest daughter was just eight months-old. Gina underwent surgery at Charing Cross Hospital, now in remission, she is putting her running shoes on to fundraise for Clic Sargeant.
Speaking about her 2018 London Marathon effort, her first marathon, Gina, said: "I thought this Year the Leadbeatters celebrate my 10 years in remission of Ovarian Cancer! What better way to mark it than run my first Marathon? It's particularly special as its London where I received my life saving treatment.'
"When I started running two and a half years-ago I would never have thought this possible It was going to be an extremely tough but the cause keeps me going. We hope to raise lots of money for Clic Sargent who Support Children and Young Adults experiencing Cancer" Gina added and plans to keep on running.
Following a successful 2018 London Marathon in 23C heat, Gina completed the run in five hours and 23 minutes, she is now planning to tackle both the Brighton Marathon as well as running
the London Marathon in 2019 with the latter being a possible Guinness World Record alongside a team of enthusiastic runners.
Gina says that the 2019 marathon run will be for Clic Sargeant and children's cancer charity, Tanyels Smile with the running team all directly affected by cancer – Gina, herself who is now in remission, Cey who lost his daughter, Dan who lost his fiancée and Gary whose daughter is now also in remission.
Speaking ahead of the full details of the fundraiser for 2019 being announced, Gina says of next year's marathon fundraising: "We hope to raise tonnes of cash but also hope to raise smiles to the children and the young families who are so sadly affected by cancer."
[box type="shadow" align="" class="" width=""]
Gina Puts Her Best Foot Forward
Determined to make a difference and to help others diagnosed with cancer, Gina has been putting her best foot forward. For more information about Gina's fundraising in 2018 and her latest plans for 2019, visit: www.justgiving.com/fundraising/ginaleadbeatter
[/box]