The Copthorne Players Present: Billy Liar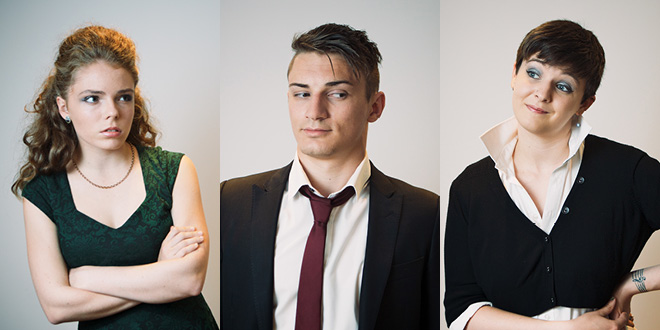 The Copthorne Players, who have been performing locally since 1970, are to take to both the stages of Copthorne Village Hall and The Capitol Theatre, Horsham, for their production of Billy Liar, starting later this month!
The play, which is based on Keith Waterman's 1953 novel and stage adaptation of the same name, is a semi-comical story about William Fisher; a working class nineteen year old, living in a fictional Yorkshire town, who escapes his mundane life by indulging in fantasies and dreams of life in the big city as a comedy writer.
"Billy Fisher is a lazy, irresponsible young clerk living in Northern England," director Christine Dale explains. "Still living at home he indulges himself in fantasy. In 2015, Billy would be a social media sensation!"
"Billy colours his life with pointless and seemingly uncontrolled untruths. The plot turns on his getting engaged to two women at the same time! The play is listed as a "comedy" – and it is very funny, but sometimes it is tremendously sad and not without sweetness…"
The Players, who have fifty local members, aged between eighteen and eighty-five, are currently undergoing final preparations for the production, which starts at Copthorne Village Hall on Thursday 29th October. Of course, we just had to ask Christine how rehearsals were going and see how local residents were taking to Yorkshire pronunciations!
"Our approach is to play the lines straight, though initially, in rehearsal, they make us laugh out loud," Christine, who has directed previous Players' productions, including 'Allo Allo, Dad's Army and An Inspector Calls, said.
"We have a great cast of eight very good actors who are now developing their characters and enjoying the lively script. The younger members of the cast are busy working on their northern accents. They are well supported in this by our experienced role models who know their significant vowel sounds. We are keeping the pronunciation differences between the North-South divide!"
Billy Liar will be performed by the Copthorne Players from Thursday 29th – Saturday 31st October, at Copthorne Village Hall from 7.30 pm (for these tickets, call: 01342 7131390) and at the Horsham Capitol Studio on Friday 6th November and Saturday 7th November from 7. 30 pm. Horsham show tickets are available by calling: 01403 750220.