Summer Budget Security For Britain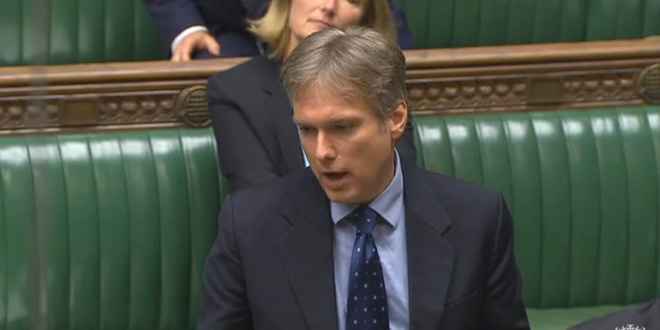 Henry Smith MP has given his support to the 2015 Summer Budget, announced earlier today by the Chancellor of the Exchequer, Rt Hon George Osborne MP.
Speaking in Central Lobby after the Chancellor's speech in the House of Commons, Henry said on the increase to the Personal Allowance;
"The tax-free Personal Allowance – the amount people earn before Income Tax is paid – will increase further from April 2016, to £11,000.
"This Allowance has continuously increased from £6,475 in 2010, to £10,600 today, and should reach £12,500 by the end of this Parliament.
"It's so important that this Government works to reduce the tax burden by increasing the tax-free Personal Allowance. This is something I have raised personally with the Chancellor on behalf of people in Crawley."
On reforms to the welfare system:
"The welfare system is being reformed, to make it fairer for taxpayers who pay for it, while continuing to support the most vulnerable.
"This will include a reduction of the household benefit cap to £20,000 (£23,000 in London).
"Working-age benefits, including tax credits and Local Housing Allowance, will be frozen for four years from 2016-17 – this does not include Maternity Allowance, maternity pay, paternity pay and sick pay."
On the National Living Wage;
"It's a Conservative majority Government that will, from April 2016, introduce a National Living Wage of £7.20 an hour for over 25s. This will rise to over £9 an hour by 2020.
"In 2014, Crawley Borough Council became the first Conservative-controlled local authority to become an accredited Living Wage employer."
On clamping down on tax avoidance;
"The Government will continue to clamp down on tax avoidance, planning and evasion. HM Revenue & Custom's resources to do this will also be increased.
"This will include tripling the number of criminal investigations HMRC can undertake into complex tax crime, and going after the organised crime gangs behind the illicit tobacco and alcohol trades.
"The Government will also make sure international companies pay tax on profits diverted from the UK."
On protecting defence spending;
"Ensuring we spend at least 2 per cent on our defence and security budget will mean the UK is not only more economically secure but better able to address the global threats that exist."
On the increase to the Employment Allowance:
"I'm pleased to see that Crawley companies will have their National Insurance bill cut by a further £1,000 from April 2016, as the Employment Allowance rises to £3,000.
"The Employment Allowance gives businesses and charities a cut in the employer National Insurance they pay.
"From April, businesses will be able to employ four people working full-time on the National Living Wage and pay no National Insurance at all."
Follow Henry daily via:
www.twitter.com/HenrySmithMP
www.facebook.com/HenrySmith4Crawley
www.youtube.com/HenrySmithMP
www.henrysmith.info