Partridge Green Youth FC Scores New Sponsorship Deal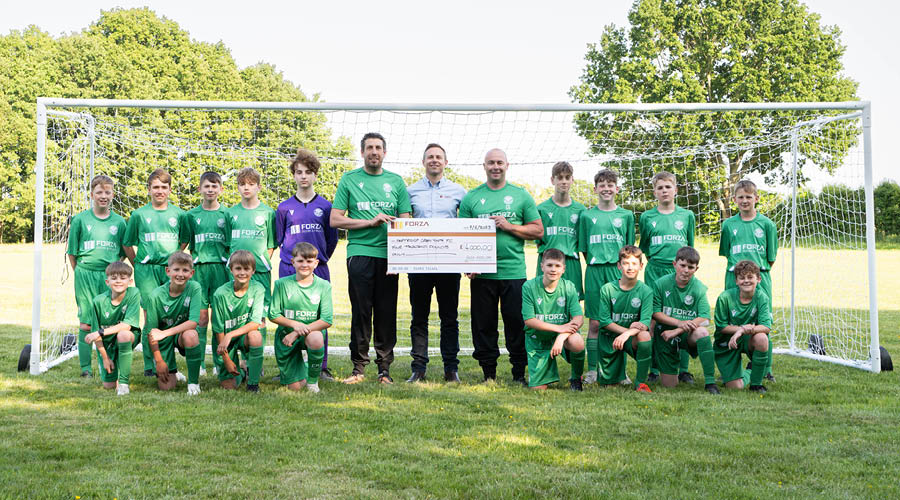 Following a fundraising drive by the new management team, Partridge Green Youth Football Club (PGYFC) now has a new official sponsor, local door manufacturer Forza Doors Ltd.
With their upgraded pitches at Jolesfield Common, courtesy of the Sayers Common Community Grant, PGYFC is creating a bright future for local soccer talent, as they begin getting teams trained and match-ready for the 2023/24 season.
"Children in Partridge Green struggled to find nearby teams to join, often being waitlisted for out-of-town clubs", explains under 13's PGYFC Manager Chris Holland, "Thanks to the generosity and support we've received, particularly from our sponsor Forza Doors, Partridge Green now has a dedicated club for children, both local and out-of-town, to train and play football matches. We have pitches for 5, 7, 9, and 11-a-side matches and, due to the support and generosity we've received, we've expanded our teams to field under 7's, 11's and 13's."
Will Hunnam, Managing Director of Forza Doors, expressed enthusiasm about the partnership, stating, "We are thrilled to support Partridge Green Youth Football Club in providing local children with a dedicated space to enjoy football. This sponsorship reflects our commitment to community development."
Spectators are welcome to cheer on the teams and enjoy walks with their dogs along the footpaths surrounding the grounds. PGYFC will participate in the Horsham District Youth Football League, engaging with teams within a 35-mile radius of Horsham, and arranging friendlies and cup games with more distant teams.
Stay up-to-date with PGYFC's upcoming matches by visiting: https://clubpgyfc.wixsite.com/pgyfc