The Ashdown Music Festival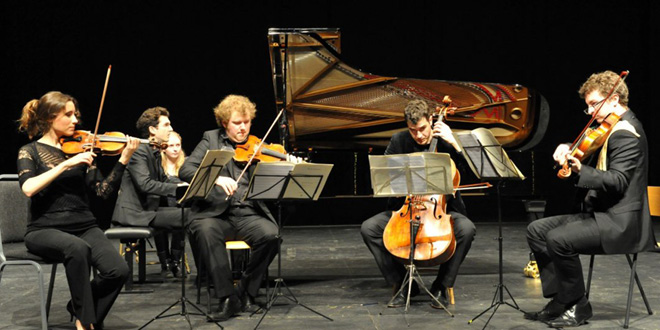 The Ashdown Music Festival has fast become a highlight of the local cultural calendar. Enthusiastic Director of the Festival is cellist Reinoud Ford, 30, who grew up in Forest Row. At age 13 he was given a scholarship to the Yehudi Menuhin School, Surrey and went on to graduate from the Guildhall School of Music & Drama, London.
This year, five exceptional concerts across three days (Friday 6th – Sunday 8th November) will delight fans of the Ashdown Music Festival of all ages and tastes!
The Opening Concert on Friday 6th November (Christian Community Church, Forest Row, 7.30pm) offers seminal works from the chamber repertoire performed by the award-winning Brodowski Quartet and cellist Ella Rundle.
Saturday 7th November has THREE concerts and something for everyone! The day starts with a magical musical Alice in Wonderland workshop for children aged 5-10 (Christian Community Church, Forest Row 11am). Young ones will delight in an abridged version of Alice's adventures, learn about musical instruments and participate in songs! An afternoon concert (Christian Community Church, Forest Row, 2.30pm) foregrounds critically-acclaimed cello octet Cellophony. The programme will include a large-scale work based on Lewis Carroll's Alice in Wonderland, written for 8 cellos and featuring renowned local narrator Ashley Ramsden. The evening of Saturday 7th November (Long Room, Michael Hall School, Forest Row, 7pm) offers a sublime collection of early music played by specialists Colin Scobie (violin) and Stephen Devine (harpsichord). The programme will include works by Johann Sebastian Bach, Marin Marais and Arcangelo Corelli. This evening will also include a delectable Golden Age-themed light supper at interval in the ticket price.
Sunday's culminating Gala Concert (6pm, Michael Hall  School Theatre, Forest Row) is replete with stand-out stars and pieces: world class Tenor Mark Padmore will be performing Vaughn Williams On Wenlock Edge and Laura van der Heijden (BBC Young Musician of the Year 2012) are among the unmissable treats!
For all Festival details please visit http://www.ashdownmusicfestival.co.uk