A taste of Sparkling Sussex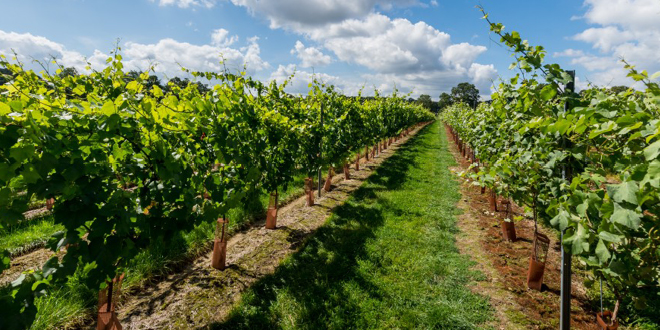 The revered Oz Clarke recently named Sussex as one of his special places which comes as no surprise when you take a closer look at the calibre of our local wines. As Sussex brands increasingly convert sceptics with their quality and taste, they quietly win a continuing trail of awards. In addition to the beautiful wines our vineyards produce, they also provide opportunities for sampling, touring and meeting the Vintners – creating an experience for all the senses rather than just a simple tipple.
A shining example is the150 -acre Kingscote Estate nestled in the Kingscote Valley, on the outskirts of East Grinstead. This June sees the launch of the estates first ever sparkling wine, named Kingscote Cuvee Christen 2014, which pays tribute to Vineyard founder, Christen Monge, who sadly passed away last May. Owen Elias, executive winemaker calls it, "youthful, fresh and distinctive." In April, they released Kingscote White Pinot Noir 2014, Fat Fume 2014, Albarino Bacchus 2013 and The Bacchus 2013/14.
Whether the Champenoise are worried remains to be seen but Tattinger recently invested in an apple orchard in neighbouring Kent. Tattinger President Pierre-Emmanuel Tattinger says this purchase was about creating something special to show appreciation of the UK's support for Champagne. Not forgetting that the South facing ground is the same chalky subsoil as found in the Champagne region of France providing an ideal microclimate to produce high quality grapes.
Gravetye Manor's Head Sommelier, Sean Arthur began his training whilst working at South Lodge Hotel, near Horsham in 2011. His passion for wines was noted during an interview for their Michelin starred restaurant and, since that time, he has passed various exams in wines and spirits and attended scholarships in Champagne with Perrier Jouet and Moet & Chandon.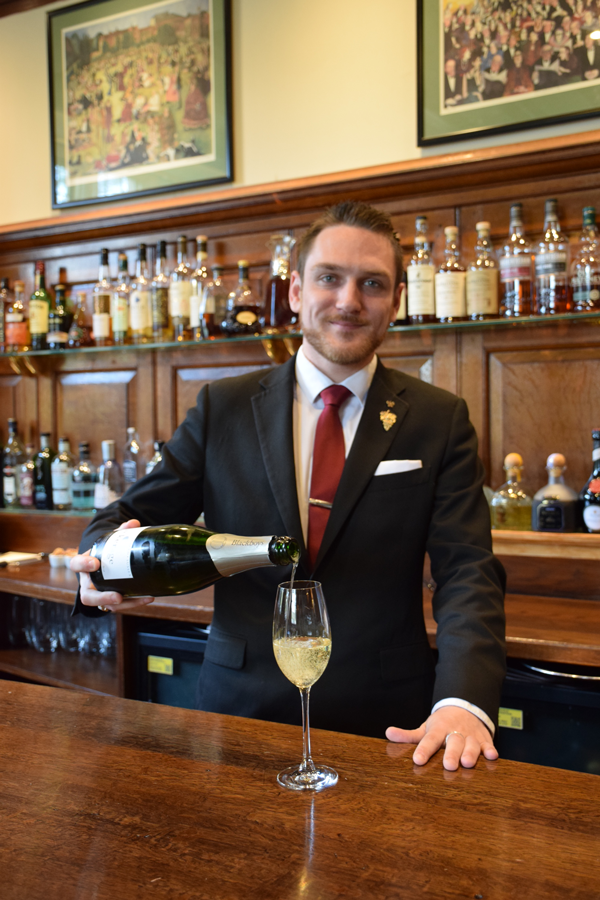 Talking recently about Tattinger's purchase, he said, "Some of the Champagne community see English wine as another Prosecco, some see it as a potential business and want to get involved.
I've seen the effect of climate change, which is evident in places like Chateau Neuf du Pape where the alcohol percentage has noticeably increased over the last 10 years. With English wine, you need to add sugar not to sweeten it but to increase the length of the fermentation so you end up with a wine that is at least 12% alcohol, which is an added cost to the vineyard."
When asked about local wine, he said that last year was a good wine producing year and 2014 wines are still going strong.
"The Bolney Bubbly is light crisp and has a very fresh style. It's uncomplicated and good for sitting outside on a sunny afternoon. At a recent wedding, we suggested Bluebell Classic Cuvee which is a classic blend of Chardonay, Pinot Noir and Pinot Meunier, a standard blend of grapes for a Champagne style wine."
Sean spoke about the importance of using local Sussex produce in the restaurant.
"For me, the best thing about Gravetye is the way we use mostly locally sourced products, including a fantastic selection of English still and sparkling wine. The support I receive here from local vineyards such as Bolney, Bluebell and Ridgeview is something that very few sommeliers can boast to have. It is hugely important to get a food and wine pairing right to really give the best possible experience. "
You can join Sean Arthur at Gravetye on a Provence Wine Master Class Tasting of 6 wines, drinks, aperitif and a 3 course lunch. Cost £95. For full details contact Gravetye Manor on 01342 810567.
Many of the Sussex Vineyards are open to the public and tours can be arranged incorporating lunch or tea.
[box type="shadow" align="" class="" width="600″]
Enjoy at home…
Waitrose sell a wide range of Sussex wine including, Nyetimber Classic Cuvee at £23.99, Bolney Estate Briar Rose Sparkling at £24.99 along with fizzy wines from Blackboys, Chapel Down, Ridgeview, Bluebell, Plumpton Estate and Breaky Bottom.
Kingscote wines, priced £15.99 a bottle or £25.99 for the Kingscote Cuvee Christen Sparkling wine can be purchased online at www.kingscoteestate.com or direct from their shop.
[/box]
By Rachel Whitlam