Take to the skies for St Catherine's Hospice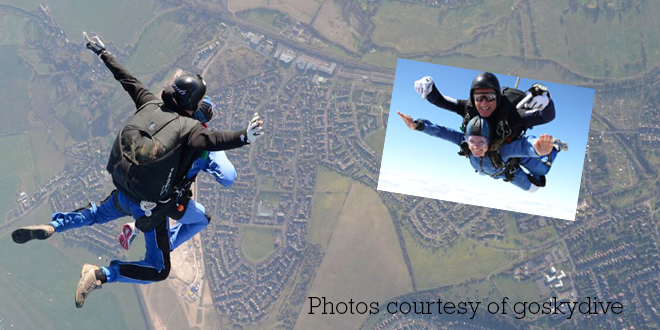 Take to the skies for St Catherine's Hospice
Want to try something daring? St Catherine's Hospice is looking for thrill seekers to fly 10,000 feet through the clouds at speeds of up to 125 miles per hour to support their local hospice.
St Catherine's is appealing for anyone to skydive on a date of their choice this autumn in aid of their local hospice and to help St Catherine's celebrate 33 years of supporting the terminally ill.
If you are feeling brave enough to give skydiving a go, you will take on the challenge at the Old Sarum Airfield in Salisbury where you will be strapped to an experienced instructor from GoSkydive.
Last year, Michelle Hanley skydived for St Catherine's. She said: "I am scared of heights so it was a huge challenge, but it was nothing compared to the bravery that St Catherine's patients and families face."
Whether you've taken to the skies before, or want to experience the thrill of trying something new, everyone is welcome. Organisers say all that is required is a dare devil attitude!
If you would like to find out more about taking on a skydive for St Catherine's, please contact St Catherine's Events Team by email: events@stch.org.uk, or call 01293 583063.