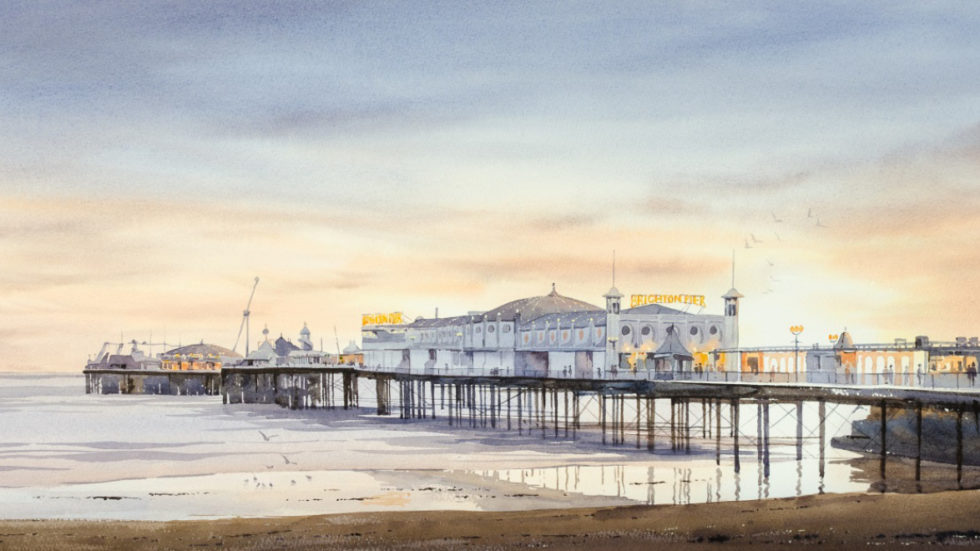 Living in Sussex, Oliver Pyle is an established landscape artist focusing his work on the British Isles. Self-taught, his work is in demand and can be found in collections internationally. In 2016 Medici Cards launched a new collection exclusively featuring Oliver's work and he writes instructional articles for publications in the UK and the US.
Growing up in Mid Sussex, Oliver spent many hours drawing in pencils and ink, gaining the skills of observation and draughtsmanship which he sees as an invaluable platform from which he has developed his painting.
While Oliver's paintings are loosely worked – with the aim being to create an impression – the accuracy of his drawing and observation underpins his distinct and individual style.
Oliver works exclusively in watercolour, exploring the impact of light, weather, and the seasons, combining them to achieve paintings that are evocative and atmospheric.
"To me watercolour is best when it is allowed to run free without being over-worked. Achieving this within the confines of a realistic approach is a balancing act, but I always try and provide the viewer with a sense of the place, not a rigorous study of every blade of grass! Working with watercolour is perfect for conveying a delicate balance of tones and hues, creating pictures that are soft and welcoming," said Oliver.
As a landscape artist, Oliver places much importance on being outdoors where light, smells, sounds and textures all combine to deliver an exceptional sensory experience that never fails to inspire.
In Sussex there is ample opportunity to be outdoors in the landscape, collecting ideas and inspiration, making notes and sketches for future work.
"In many respects" said Oliver, "Sussex is an artist's dream, and there is never a shortage of subjects to explore. The county's landscape is so varied; the rolling hills of the South Downs, ancient woodlands with carpets of bluebells, and the wide-open heathland of Ashdown Forest. Not to mention the many charming villages and the fascinating coastline."
In addition to his work, Oliver is keen to share his enthusiasm for watercolour with others and is passionate about the importance of traditional values in art. His workshops – An Introduction To Watercolour, hosted by local galleries, provide an opportunity to do something creative and understand the medium of watercolour better.
"I believe strongly that people should get involved with creative activities, but sadly many feel that they neither have the time, nor the ability. If you can find time, you can discover ability! I am entirely self-taught, and that might work for you, or alternatively try out a course or workshop. You would be surprised how many people find that they can paint. Throw in an abundance of practice and patience and you will find that you have started a thoroughly engaging hobby that is fun, unpredictable and challenging" explained Oliver.
Oliver's work is exhibited locally through regular exhibitions with Artologie Gallery in Cuckfield and The Ashdown Gallery in Forest Row, in addition to his representation in the West Country.
Awash With Colour With Oliver
For more information about Oliver's paintings, commissions and his online shop, visit: www.oliverpyle.com
By Georgia Lambert