Surrey Girl Alex's Half-Marathon Efforts For The Brigitte Trust
In the autumn, a self-confessed Surrey girl completed the Run Reigate half-marathon to raise money for Surrey-based charity, The Brigitte Trust. From its base in Dorking, the charity provides emotional support and practical help at home for people and their families facing cancer and other life-threatening illness.
Surrey entrepreneur Alex, 31, is proud of her local roots and keenly describes herself as a Surrey girl, says: "I grew up in Horley, went to college in Reigate and after a stint in Brighton for uni, I now live in Dorking with my husband Matt, so I'm a Surrey girl through and through. I love the area and since getting our first dog two years ago we've found so many wonderful walks, right on our doorstep."
After more than nine years working in marketing for London agencies, Alex last year decided to leave corporate life behind and focus on building her own business. Passionate about health and wellness, Alex believes in inspiring others to try new things and live healthier lifestyles. Today, she is spending her time working with people looking to get more out of life and helping them to make better life choices.
Growing up, Alex's Dad was a keen runner who completed several marathons including the world-famous London race and this had inspired Alex, however, as a Type 1 diabetic, she was worried how she would manage her blood sugars whilst running for such a long time. Determined to run, Alex decided to swap the comforts of the office for the rigours of a half-marathon running route for charity.
Alex had run on and off since she was a teenager, but she says that it was the summer of 2015 when she took part in her first parkrun. She says she loved it and she went on to regularly run at Tilgate Park in Crawley or Reigate's Priory Park on a Saturday morning to run the 5km course. Alex admits that at first 5k felt like a huge distance but over time she started to run more often, distances started to creep up.
[one_half]
In May last year, Alex spoke with a friend and fellow running enthusiast about entering the Run Reigate half-marathon, and he encouraged her to go for it. At the time, her friend was working for The Brigitte Trust, and Alex decided to register for the charity. The Brigitte Trust work throughout Surrey supporting people facing life threatening illness, with a team of volunteers giving their
time to make a difference.
Alex says: "It was special to run for such a local charity and having got to know the team there and more about the amazing work they do I was so proud to represent them on the big day. I raised £675 for The Brigitte Trust and was so thankful to everyone who sponsored me! I know the team at The Brigitte Trust were thrilled and that money is going to such an amazing cause right here in our community."
Not content with her Run Reigate efforts last year, Alex now has her eyes firmly set on her upcoming run next month, she says: "I'd love to do more fundraising, and it certainly adds an extra boost of motivation when you know you are running for such a great cause. I am entered into the Hampton Court Half-Marathon next month so watch this space! Crossing that finish line is the best feeling in the world!"
[/one_half][one_half_last]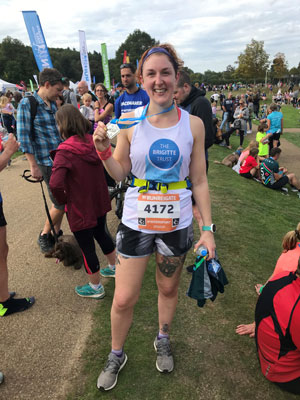 [box type="shadow" align="" class="" width=""]
The Brigitte Trust
For more information about The Brigitte Trust and the work it does across the county of Surrey, visit: www.brigittetrust.org, or follow the charity on Facebook, see:
www.facebook.com/TheBrigitteTrust/
[/box] [/one_half_last]