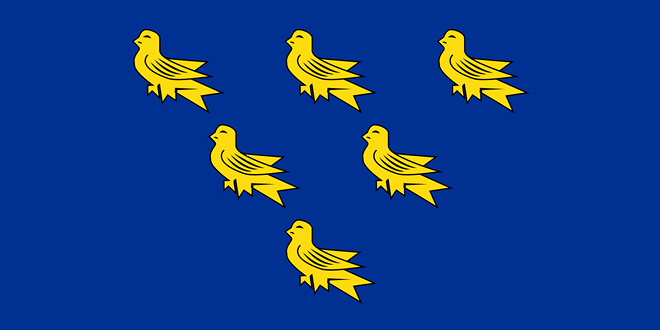 When I first moved to the area more than 11 years-ago, I felt as if I had gone on holiday and had inadvertently forgotten to go home! There is so much to celebrate in Sussex – we have some of the most beautiful countryside in England, incredible wildlife and a vast array of local attractions. Over 80% of Sussex is rural and over 50% is designated as Areas of Outstanding Natural Beauty. Sussex has a unique landscape, from the sandstone hills of the High Weald, through the patchwork of pasture and woodland, over the rolling Sussex Downs to the coastal plain, with its wooded harbours and expansive beaches.
Sussex Day is on the June 16 and there will be events across the county to celebrate Sussex and its rich heritage and traditions. The date was originally chosen because it is St Richard's Day, the country's patron saint and Bishop of Chichester from 1245 until he died in 1253. The official flag of Sussex was first registered under the name of Saint Richard's Flag after a campaign was started in 2010. The flag depicts six gold martlets on a blue field, an emblem that was first used by John Speed in 1611 which represents the 'Kingdom of the South Saxons'. The six martlets symbolise the
six historical 'rapes' when land was divided and owned.
Sussex has inspired many writers including Jane Austen, J M Barrie, William Blake (Jerusalem), John Keats and Alfred Lord Tennyson, to name just a few and even has its own distinctive language, which although mostly now died out, was once widely spoken across the county. Different dialects existed between downland and Wealden people and it is believed the people of the Weald had the most impenetrable accents.
The words can be found in Old Dutch, Old Welsh, Anglo Saxon with a smattering of 14th Century French and Scandinavian. Much of the dialect is thought to have originated from Sussex fishermen and the links they had from the French coast and the Netherlands. Interestingly, gender is always feminine and there is a Sussex saying, Everything in Sussex is a She except
a Tom Cat and she's a He'.
[box type="shadow" align="" class="" width="600″]
Do you ever hear any of these Sussex words used today?
Boco – much (from the French beaucoup)
Bread and Cheese – a true friend
Chipper – happy
Dosset – small portion
Dursn't – must not
Goistering – loud feminine laughter
Jiggered – surprised
Kiddy – friend or workmate
Surelye – this would be added to the end of a sentence to add emphasis
Twitten – a path or alleyway [/box]
We won't be Druv' is the unofficial motto of Sussex that means, 'we will not be driven'. It suggests that the people of Sussex have minds of their own and won't be forced against their will and told what to do. It is still used by some of the Sussex Bonfire Societies today.
To help you celebrate Sussex Day this June, here are a couple of suggestions, but equally, you could just take your picnic hamper packed with Sussex produce and a bottle of Sussex bubbly into the woods and catch the last of the Bluebells.
June 2 – 4 – "Ephemeral" Festival of Flowers,
Sackville College, High Street, East Grinstead £7 (supporting Sackville College Restoration Fund).
June 10 – 18 – South Downs Way Walk
Cover a small section or join up with an organised walk along the route (av. 11 miles each day)
June 16 – Sussex Day Celebration,
Chapel Green, Crowborough 6-8pm. Includes a beer tent, cream teas, hot food and a dog show.
June 16 – The Redoubt Fortress,
Eastbourne – free entry to all.
By Rachel Whitlam