Retirement is far from boring here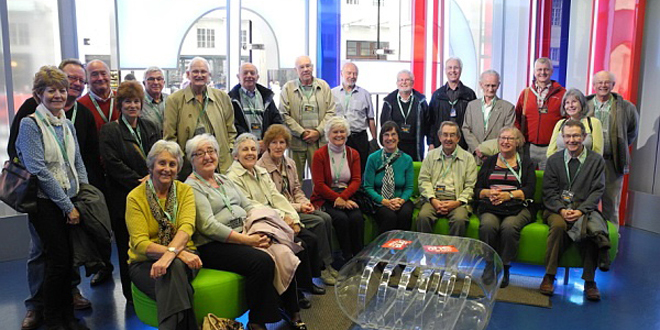 A survey by the Institute of Economic Affairs of 9,000 retirement-age participants from across the EU found that retirement can cause a 40% increase in the risk of suffering from depression, thought to be due to lack of social interaction from friends and work colleagues, leading to isolation.
Men, who have had high-powered jobs, can find retirement especially difficult.
However, with groups like The Probus Club of Crawley Hawth Wood, who unite retired professional men, any retirement boredom can be well and truly banished.
Next month, our local Probus Club will be celebrating their 21st anniversary. Their aim has and always will be "to promote fellowship amongst semi-retired and retired men". Meeting on the first Wednesday of the month at the Hawth from 10.00am, the members get-together for talks, friendship and fun days out.
In the last seven months alone, the group have been ten pin bowling, greyhound racing, enjoyed a guided tour of Somerset House, been on a coach trip to Dorney Court and Hughenden Manor and taken part in a mystery tour.
From this month until the end of the year, members will be participating in hectice schedule including a guided stroll around Tunbridge Wells, coach trips to Whitstable and Margate and Portsmouth Harbour, a picnic at Sussex Prairie Gardens, a mystery walking tour in London, a fun quiz and rounding off the year with a charity Christmas lunch.
Wives also meet-up regularly for lunch and many other functions too.
So, whether you'd like to join them for a holiday, various day trips, or get involved in other projects, they'll prove that retirement is anything but boring!
"Retirement is all about having the time to do all the things you have always wanted to do but could never find the time," Paul Makinson a former senior court official at Crawley Magistrates Court, who joined the club in 2007, says. "Start to tick off items on your bucket list!"
"Come to one of our meetings with lunch as my guest, it is all free and there is no commitment."
Interested in joining? Contact Paul Makinson on 01293 402868 or Norman Dilworth on 01293 514195 for further information.
By Shelley Baker