Professional Beauty Secrets: Revealed By Helen Taylor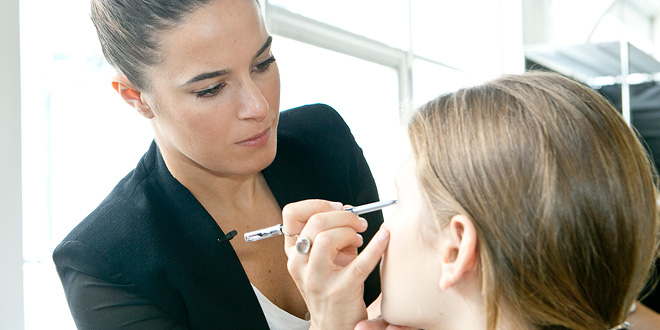 Ever wondered how models and actresses manage to look so gorgeous all the time? Well, here's the low-down on those all important tips and tricks that are used by professionals all over the world.
Clever Contouring
Kim Kardashian is known for her flawless make-up look which perfectly accentuates her features and draws attention to her razor-sharp cheekbones.
Skilled in the art of contouring, her make-up artist cleverly uses cosmetics to emphasis particular parts of her face, which creates her striking trademark look.
Here's how you can get cheekbones which rival Kim's: Firstly you'll need to prime your skin. Choose the primer that's right for you: green toned versions neutralise redness in the skin and mattifying primers eradicate shine. Smooth the product over your entire face, after applying a light moisturiser.
Next, select two foundations in two different shades; the first should be one shade lighter than your natural skin tone and the other one shade darker.
Apply the lighter foundation to the centre of your forehead, bring it down onto the middle of your nose, in a straight line (this will make your nose appear straighter and slimmer), apply under your eyes and to the tops of your cheekbones, then lastly to the centre of your chin.
Sweep the darker shade under your cheekbones, along the outer sides of your nose, either side of the lighter colour, and on your temples and jaw line. Blend down onto your neck so that you don't end up with a visible foundation line.
Use a light-reflecting – not a glittery or overly shimmery – highlighter to make certain areas of your face really stand out. Apply the product under the arch of your eyebrows, along the tops of your cheekbones, down the centre of your nose and on your cupid's bow.
To finish, and to bring the entire look together, dust translucent powder over your entire face and add a touch of colour to the apples of your cheeks using a pink blusher.
Perfect Pout
Here's how to achieve a red carpet pout. Grab a neutral-coloured lip liner and begin lining just outside the coloured part of your lips to create a full effect.
Define your cupid's bow by drawing a 'V' in the centre curve of your top lip, bring the line round and down using soft feathery strokes. Line the curve of the bottom lip with the same light movements, and soften by lightly blending with your finger.
Choose a striking shade of red lipstick and carefully apply the colour within the line using a lip brush.
Finally add a touch of shimmery clear lip-gloss to the centre of your lips to add instant fullness.
Lovely Lashes
Long, luscious eyelashes are a must for anyone in the spotlight. Most celebrities will be sporting high quality lash extensions, but you can still achieve an impressive look with just a few basic tools.
Eyelash curlers are a must for every woman – they serve to immediately open-up eyes and add shape to lashes.
Liquid liner is essential too; not only does it add definition, but it helps to create the look of a thick lash line, so always apply to your upper lashes before your mascara.
Choose a quality mascara to lengthen and colour your lashes. Wipe the applicator before use and work the brush through your lashes using a quick side to side motion, ensuring that every area is covered.