New Year, New Volunteering Opportunities at St Catherine's Hospice!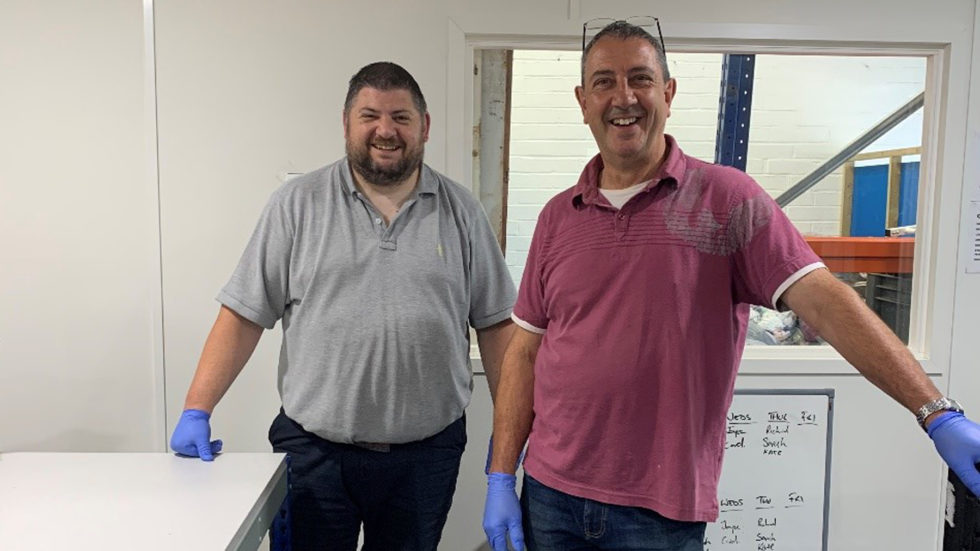 Do you want to become a volunteer in 2021? St Catherine's is looking for motivated individuals to volunteer their help in the trading department.
Below, two volunteers in their Rowfant donations warehouse have shared their own experiences of volunteering and why they encourage you to do the same.
Richard, from Crawley, started volunteering last year after being furloughed and made redundant from his job in the travel industry. Describing more about his background, he said:
"Volunteering has always been at the back of my mind, but like a lot of people, I always felt like I never had the time to do something. Being furloughed gave me a bit more perspective on what makes me feel good and I needed to find something that gave me more purpose. I struggle to sit indoors all day and just listen to my own thoughts, so not only is this volunteering role helping the hospice, but it's also helping me.
I struggled a lot during lockdown. I was getting to the point where I was sitting around doing nothing, it was quite soul-destroying. This has given me a lot, as well as me being able to give something back. You don't realise how rewarding volunteering can be until you just get out there and do it. It feels great at the end of each day to know that you've done something to make a difference and that you're contributing to a local charity that needs all the help it can get. I would recommend volunteering to people of all ages, particularly those that have been furloughed, are in between jobs, or not working
at all. It's easy to be out of work and fall into the trap of thinking negatively, but this doesn't take up a huge amount of time and it can give you that extra bit of motivation to keep going. It makes you feel like you're actually contributing something and making a huge difference. It may only be a part-time volunteering role, but the impact that it has on St Catherine's is huge. If we can get enough stock out to our shops that is sellable, every penny counts."
Kevin, also from Crawley, started volunteering two years ago after retiring from his job in the banking industry. Describing more about his experience, he said:
"Like a lot of people who retire, I knew that I needed to still do something. Since starting as a volunteer I have loved every minute of it, that's why two years on I'm still here. I tell everyone what I do, many people ask "Why do you do that?" and I say "Because it's great, I'm making a difference to my
local community and my local charity, and I just love it." Volunteering here is lovely. The people are great, we all have a good laugh together and we work hard as a team to get on with what needs to be done.
It's also great to be getting out of the house every week and to do something for a great cause. Every day is different here because you get different things coming in. We have a laugh when funny things come in and we love it when we find some hidden gems, we find silverware, brand new designer handbags, shoes, all sorts! I would recommend everyone who wants to do volunteering to just try it. Come and spend a session with us, meet the team and see what we do."
Would you like to be part of our volunteering team?
Please visit the volunteering section of the St Catherine's Hospice website here or call the Volunteering Team on 01293 447351 to find out more information.