Making His Mark: 12 Marathons in 12 Months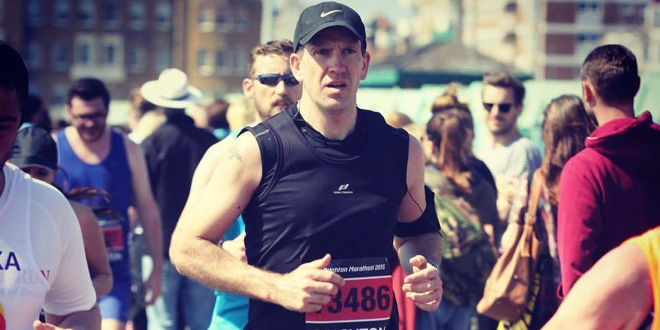 When many of us think about celebrating a 'special' birthday, most of us would hope for a relaxing break, lots of cake and perhaps a glass or two of fizz. Not Crawley resident Mark Barrett. He has decided to celebrate his milestone 40th birthday by running 12 marathons in just 12 months!
Mark, who lives in Maidenbower and is a personal trainer, turns 40 on May 20 and plans to mark the occasion by pushing himself to the limit; taking on gruelling marathons across the world, all for local charity Home-Start CHAMS. The Crawley-based charity aims to offer support and help to families across Crawley, Horsham and Mid-Sussex.
"I wanted a different and special challenge to mark my 40th year," Mark told us. "I wanted something that required a big commitment and something that would not only challenge me but also raise awareness and money for a very deserving local charity."
"I have run marathons before and also completed triathlons but I really wanted a big challenge to keep me going throughout the year not just a one off – something to really mark the occasion and do something for a worthy local cause at the same time.
Doing something throughout the year will hopefully push me to my limits and make a big positive contribution for Home-Start CHAMS."
Mark has already run three marathons, over the last few months; Barcelona, Brighton and London and has nine to go between now and the middle of November – including the Reykjavik, Amsterdam and Athens marathons. He's hoping to raise £4,000 for the charity.
As a personal trainer and an experienced runner, Mark is clearly fit enough to take on such a challenge, however, as he explains, there's a lot of on-going training to do, and he's even started a running group, so inspired residents can join him:
"Being a personal trainer; I have a high level of fitness and run regular classes and boot camps at MBT Fitness, but to step this up to the level it needs to be at I have started training three to four times during the week plus a long distance run on weekends."
"To further support my running I have created a running club; Black Dog Runners, in association with MBT Fitness. Anyone wanting to join me in any of my events throughout 2016, or to kick-start their running is welcome to get in touch, we welcome anyone of any ability."
When asked what he's looking forward to most, Mark told us that he was looking forward to pushing himself and helping Home-Start CHAMS:
"I am most looking forward to challenging myself while making a real impact and difference to a charity which really make positive impacts to vulnerable young children within the local community."
To support Mark's mammoth 12 Marathon in 12 Months challenge visit: uk.virginmoneygiving.com and search Mark Barret.
Follow his journey via Facebook by searching 12 marathons 12 months.
Further details on the Black Dog Runners can be found via www.mbtfit.co.uk/black-dog-runners.