Final Whistle For Exhibition At Horsham Museum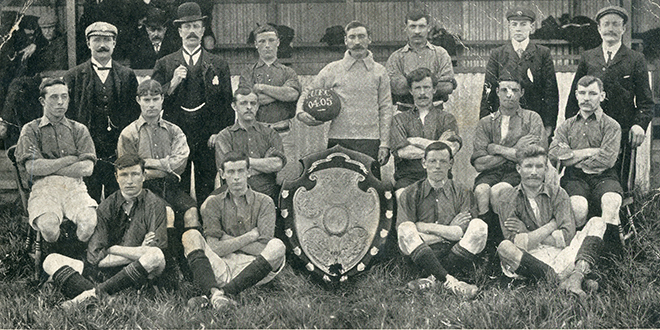 Final Whistle For Exhibtion At Horsham Museum
Football fans from across West Sussex are being reminded that the final whistle for an exhibition entitled The Beautiful Game: A History of Football in Horsham District, celebrating the beautiful game locally at Horsham Museum & Gallery will be blown on Saturday, March 30 for the last time.
The Beautiful Game: A History of Football in Horsham District, the exhibition which opened its doors in January has seen visitors from far and wide learn about the football in and around Horsham, which has had a football team since 1871, the year that the Football Association introduced its Challenge Cup.
As well as much of West Sussex, Horsham has a rich and vibrant footballing history.
The Horsham and District Football Association was founded in 1895, with the initial purpose of providing players for the Horsham Football Club and the early minute books from the organisation record the following clubs as members of the early Horsham football association – Horsham, YMCA, Shelley United, Carfax United, Bishopric Wanderers, Roffey, Warnham, Working Mens, Billingshurst, Handcross, and Southwater.
Today, Horsham district is well served with various football clubs catering for all ages, genders, backgrounds and abilities. The clubs range from workplace teams, women's teams, disability football teams, walking football teams, children's teams and leagues, through to large clubs. Each organisation has its own history, complete with unique characters, successes and stories from over the many playing years.
Launching the football exhibition, the museum was overwhelmed with reaction from local sports fans wanting to be part of the action. The special exhibition curators received a fantastic response from local clubs and individuals and it is lucky enough to be displaying a wide range of objects including shirts, trophies, archival material, photos, clippings, artworks and footage that have kindly been lent for the duration of the exhibition.
Sussex's Fantasy Footballers
Over the years the county of Sussex has produced its fair
share of footballers who have gone on to make a name
for themselves. 
Some of the county's fantasy footballers include:
Gareth Southgate, England manager and one of the most celebrated Britons of the year in 2018, grew up in Crawley
Lewis Dunk, Brighton and Hove Albion hero and recently capped by England, was born in Brighton
Gareth Barry, former England international and Aston Villa, Everton and West Bromwich Albion Premier League star, heralds from Hastings
Enjoy A Piece Of The Action
The Beautiful Game: A History of Football in Horsham District runs until Saturday, March 30. Horsham Museum & Art Gallery is open Monday – Saturday 10.00am – 5.00pm, admission is free. For more information about Horsham Museum & Art Gallery and its exhibits, visit: www.horshammuseum.org