Family Fun at Cats Protection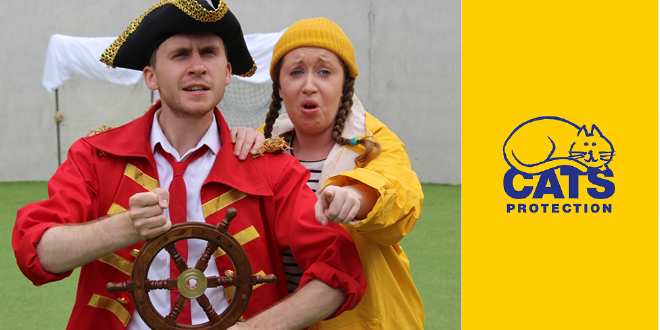 Looking for some family fun this week close to home? Look no further than Cats Protection at Chelwood Gate, on Thursday the National Adoption Centre is hosting Little Tricks Theatre.
On Thursday, September 1 Little Tricks Theatre will be presenting their second show of 'Beyond the Shores' which we recently performed for the first time at the 'The Brighton Open Air Theatre'.
The show premiered at the Starboard festival which creates theatre specifically for and with young people and the children's show has already proven to be a huge success drawing in the crowds.
The show takes the audience on an adventure of a life time as we set sail across the seven seas in a tale that involves treasure hunting, a mighty quest and even few songs along the way.
Join the Captain and his companion Pip aboard the ship at an outdoor show in the grounds of the National Cat Adoption Centre in Chelwood Gate – theatre and cats! What more could you want?
[box type="shadow" align="" class="" width="700″]
Little Tricks Theatre Company present Beyond the Shores
Thursday, September 1 at 11am
Tickets are £5
Call: 01825 741370 or email: visitor.centre@cats.org.uk for tickets.
Cats Protection Visitor Centre, Chelwood Gate, Haywards Heath, RH17 7DE
[/box]
By Jacob White