Copthorne's Millie Giving Sport Her Best Shot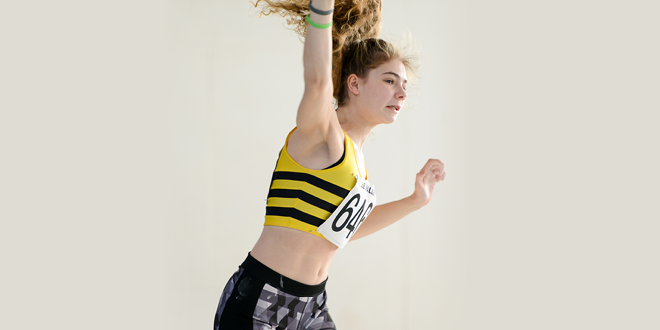 One talented Copthorne teenager is giving sport her best shot as she competes in high-level athletic competitions across Britain in the shot put. In February, she secured her most memorable victory yet with a table-topping gold-medal finish in the English Under-15 Indoor Championships in Sheffield.
Millie Noyce, 14, a student at Imberhorne School in East Grinstead is proving to be a sharp shooter and boasts a golden shot which is winning her dozens of plaudits in the sporting world.
Millie's sporting journey began when she visited an athletics open day at Crawley K2 Leisure Centre where on offer were a series of different athletic events including running and throwing disciplines.
As Millie explains, the lack of other open day attendees showing an interest in shot putting meant she thought she would give it a go and from there she found a flare for the sport and enjoyed it.
Millie said: "There weren't many shot putters for the event, I really enjoyed it and threw well. I started training at K2 before joining a specialised throwing group called Elite Throws Academy."
Her coach is Judy Oakes, a former star shot putter whose own athletics career saw her represent Great Britain and England, with her winning six Commonwealth Games medals including three gold.
Under Judy's watchful eye Millie has gone from success to success and earlier this year beat her previous personal best with a throw of 12.47m to become the English Under 15 Indoor Champion.
Speaking about her golden championships in South Yorkshire, Millie said: "I really enjoyed the competition in Sheffield, I was competing against girls from around the country. I was competing against the girl who was number one in the country and this motivated me to throw further."
The shot put is an Olympic sport which dates back to the Olympic movement's earliest origins in Ancient Greece – all about strength, co-ordination, timing and athleticism. Millie in the past year has already taken Crawley Athletics Club, Sussex League and regional titles before her national success.
As well as shot put which requires training three to four times a week Millie plays netball for her school meaning Millie has to draw on her organisational skills to find balance in her sport and social life, she says: "It can be tough fitting in homework and training but I manage it as I am organised."
Under the guidance of her highly experienced coach Judy Oakes, might the Olympic games beckon in Tokyo in 2020 or Los Angeles or Paris in 2024 for Millie? Millie says: "My plans for the future are to carry on training hard and see what happens. Olympics? Who knows, we will see."
Millie's sporting success to date has been achieved so far through hard work and dedication and that is her message to any girl wanting to throw in her footsteps. "My advice to anyone else would be train hard and just give it all you can, don't be too hard on yourself, I can be sometimes – well that's what my parents tell me!" Millie says.
[box type="shadow" align="" class="" width="600″]
Women's Sport Week
Taking place month between Monday, June 19 – Sunday June 25, Women's Sport Week takes place during a summer jam-packed full of elite women's sport including the Women's Cricket World Cup Women's Rugby World Cup which both take place in the UK and Ireland, and the Women's European Football Championship and Women's Hockey Championships – ensuring 2017 is set to be one of the greatest years for elite women's sport. Women's Sport Week's partners and supporters include BBC Sport, Sky Sports, the Department for Culture, Media and Sport and many of sport's national bodies.
[/box]