Capsule Wardrobes Uncovered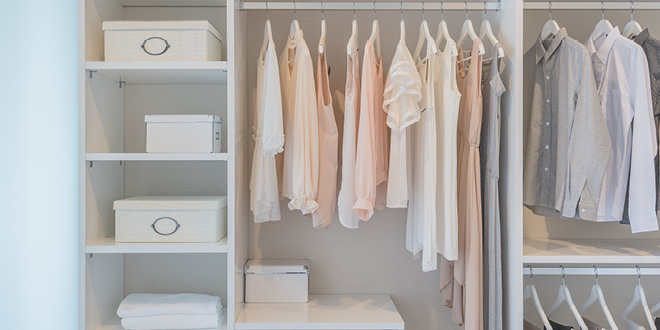 The capsule wardrobe trend has been around since the 1970's and has been popular ever since with those who want a streamlined and condensed collection of clothes that are all interchangeable and work together, whatever the season or year!
The term 'capsule wardrobe' was coined by London boutique owner, Susie Faux, during the 1970's to describe staple garments that would not go out of fashion and could be worn throughout the seasons, with just a little updating needed during the year. Faux is believed to have said that the perfect capsule wardrobe consists of two pairs of trousers, a dress or a skirt, a jacket, coat, a knit, two pairs of shoes and two bags! Of course, many of us couldn't limit ourselves to only wearing nine items (especially if we're starting with over-flowing wardrobes and drawers!), but we can cut down. So, get ready to start de-cluttering and embrace your fuss-free, wear-anywhere wardrobe!
Choose non-clashing colours 
By choosing a muted colour scheme of one or two base colours (black, white, brown, grey or navy work best!), all items will work together. You can then add one or two brighter accent colours (for things like bags, tops and jewellery), to coordinate and make all items completely interchangeable.
Opt for classic shapes and patterns
As well as cutting down on the sheer amount of unworn clothes we have hanging in our wardrobes, the capsule wardrobe focuses on timeless pieces that will never go out of style. This is always worth remembering as we update the garments we have. For instance, instead of buying fashionable-right-now skinny jeans, we should choose figure-flattering andforever-stylish bootleg jeans as these will see us through the changing fashion seasons. It's also worth thinking about garment shapes that suit your figure too, to ensure that you continue to want to wear them.
Buy high-quality fabrics
The perfect capsule wardrobe is all about re-wearing the same pieces, over and over again, so you need good quality clothes that stand up to the daily wear and tear. Investing in more expensive, but better quality key pieces, will save you money (and time!) in the long-run and see you looking fabulously fashionable for longer.
[box type="shadow" align="aligncenter" class="" width="200″]
Capsule Wardrobe Checklist
White Shirt
Little Black Dress
Bootleg Jeans
Tailored Trousers
Pencil Skirt Plain T-Shirts & Camisole Tops
Cashmere Jumper or Cardigan
Black Blazer
Belted Trench Coat
Flat Ballet Shoes
High Heels
Casual Shoes
Tote Bag
Clutch Bag
Silk Scarf
Sunglasses [/box]