Blooming Fantastic Spring Show Returns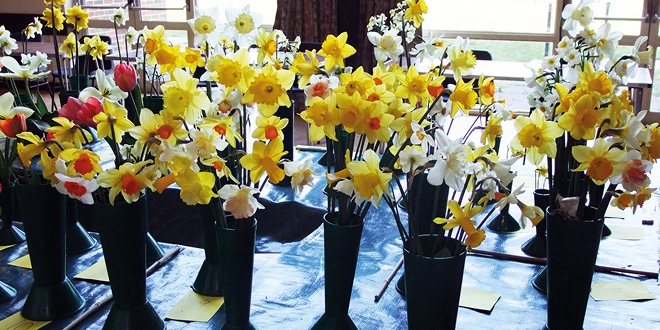 ver the last few weeks, members of the Worth Horticultural Society have been busy growing, pruning and perfecting their blooms in time for their Spring Show which takes place at the Haven Centre on Saturday 2nd April from 2.00pm.
The group, which formed in 1882, have been running a Spring Show since the early 1990's and welcomes green-fingered residents to enjoy a free afternoon of flowers, food and community fun!
"You will see beautiful displays of spring flowers on exhibition, and as you wander around, the air will be filled with their fragrance," Chairman Martyn Mason told us.
"There will also be two cooking classes, three children's classes and 2ft x 2ft niches containing arrangements of spring flowers which will be judged by the public. Various table tops will be offering their wares for sale and tea and coffee will be on offer during the afternoon. Entry is free!"
The Society's first committee members were wealthy resident's head gardeners, who managed large estates. Their annual gatherings showcased the vast amount of produce these gardeners were able to grow, which fed the household and saw homes filled with beautiful flowers and fruit, all year round.
Now 134 years later, the longstanding group and their seventy members, hailing from Crawley Down, Copthorne, Turners Hill and the surrounding area, have a more relaxed approach to horticulture, but are still just as passionate!
"We enjoy meeting and talking to like-minded people such as exhibitors, judges and, of course, the public," Martyn says, when asked about what the members enjoy most about hosting events,
like their upcoming Spring Show.
"We are keeping alive an ancient Society that was founded in 1882, so please support us and take this opportunity to view some really top quality spring flowers."
"Come and enjoy the atmosphere and absorb the fragrances, you never know, you may even win a prize in our 100 space draw!"
The show is the first of two this year for the group, with their popular Summer Show planned for Sunday 17th July at The Ark, Turners Hill.
If you would like to find out more contact Chairman Martyn Mason on 01342 714858 or to hire a table to sell your wares (£5.00), contact: Shirley Donaldson, Membership Secretary on 01342 713423.
By Shelley Baker