Break Your Bad Beauty Habits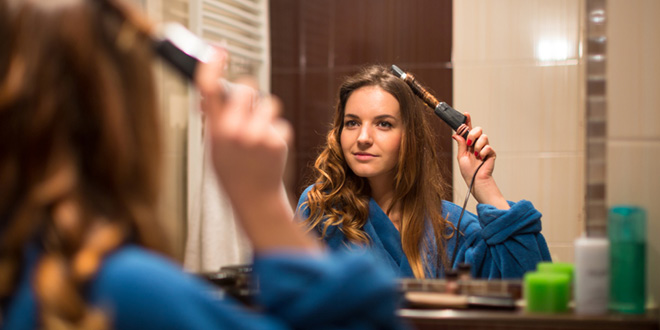 It's the start of another new year, which means that there has never been a better time to leave your bad beauty habits behind.
#1 – Sleeping with your make-up on
Never, no matter how tired you are, go to bed with any trace of make-up still on your face.
Mascara that hasn't been removed will quickly
dry-out your eyelashes, making them brittle and weak. Last night's foundation will clog your pores, leaving you prone to nasty break-outs.
The Solution – Establish a cleansing routine
Make cleansing your face a priority. Dedicate 15 minutes in the evening to your skin: cleanse, tone, moisturise and apply your face and eye creams.
Always keep a pack of cleansing wipes next to your bed, so that if you return home after a big night out you can still attempt to remove some of your make-up.
#2 – Using heat stylers on your hair every day
If you straighten, curl or blow dry your hair every day you will be causing damage to your tresses that could result in split ends, dried-out lengths and dull-looking locks.
The Solution – Try something new
Try a new style – maybe sweep your hair up, or use hair accessories to attain a different look. Find products that cater to your needs; if you want straight lengths then use a straightening shampoo and conditioner.
You don't have to say goodbye to your much-loved heat styler altogether. Instead use it more sparingly and ensure that you spritz your hair with a heat protecting product first.
#3 – Using make-up that is past its best
Some plead ignorance, others say they can't let go, but whatever excuse you have for not throwing that ancient mascara away won't cut it when you hear the truth about out-of-date make-up.
Although your cosmetics look innocent enough, after being opened they offer a perfect breeding ground for bacteria. And over time, you can end up suffering from some seriously nasty eye infections, skin irritations and blemishes.
The Solution – Regularly clear-out your make-up bag
Mascaras, liquid eyeliners and lip glosses should be thrown away every 3 or 4 months. Foundation is ok for around 12 months, as are lipsticks and eyeshadows.
#4 – Stuck in a make-up rut
You've been applying your make-up the same way for as long as you can remember. You haven't updated the colour of your cosmetics for many years and you'll only ever buy certain products. It sounds like you're stuck in a make-up rut.
The Solution – Seek a professional opinion
The easiest way to break this bad beauty habit is to seek some professional help. Visit any of the top beauty counters in your favourite department store and ask for a make-over. Most consultants will be more than happy to help you find a new look and often this service is free.
#5 – Overlooking your eyebrows
Over-plucked brows are as bad as over-grown brows; many women make mistakes when it comes to one of their most important facial features.
Eyebrows serve as a frame for your eyes and creating the right shape instantly lifts your face and draws attention to your eyes.
The Solution – Pay a visit to the salon
You can't beat professionally sculpted brows. Whether you choose to have them waxed, tweezed or plucked, your beautician will assess your needs and leave them looking perfect.