Winter Braised Lamb Shanks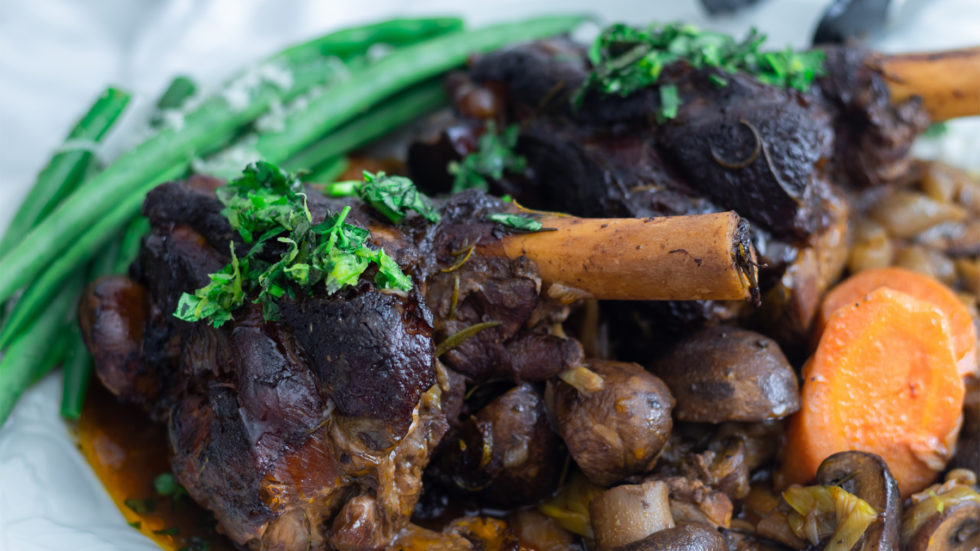 Lamb shanks are cut from the end of a leg of lamb and are ideal for slow cooking. Serve with creamy mash potato for a really warming winter supper.
Serves 2 (see tip)
Ready in 3 hours
Ingredients:
1 tbsp olive oil
15g butter
2 large lamb shanks
2 leeks, trimmed, washed and sliced
600ml vegetable stock
2 tbsp Worcestershire sauce
2 tbsp tomato puree
2 large carrots, peeled and cut into chunks
3 fresh rosemary sprigs
Salt and freshly ground black pepper
300g chestnut mushrooms, halved
Freshly chopped parsley, to garnish
Steamed green beans, to serve
Method:
Preheat the oven to 170C, 150C fan, gas mark 3. Heat the oil and butter in a large frying pan. Add the lamb shanks and fry for 3-4 minutes until browned all over, turning frequently. Transfer the lamb to an ovenproof dish.
Add the leeks to the frying pan and fry for 5 minutes then pour in the stock and Worcestershire sauce and stir in the tomato puree. Bring to the boil then add the carrots, reduce the heat and simmer for 5 minutes.
Spoon the stock and vegetables around the lamb and add the rosemary sprigs. Season with salt and freshly ground black pepper and cover tightly with a lid or foil and cook for 2 hours.
Remove the dish from the oven and stir in the mushrooms. Return to the oven and cook for a further 30-40 minutes, uncovered, until the lamb is very tender and the liquid has reduced slightly. Serve garnished with freshly chopped parsley and with steamed green beans.
Tip –  As a general guide each lamb shank will serve one adult, however, if you use large lamb shanks this recipe will stretch to serve a family of two adults and two children.
For more of our recipes click here