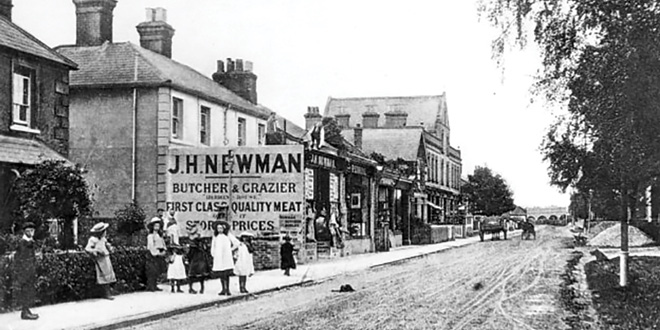 I've long had a keen interest in the old things of Horley, although admittedly this has mainly taken the form of scouring charity shops for second-hand bargains. However, when I lift my eyes beyond the shop fronts I see architecture that hints at an intriguing past…
The Original Factory Shop is housed within a Victorian train shed, and the Jack Fairman pub still boasts the art deco facade of its namesake's car showroom where beer swiggers now replace gas guzzlers.
Whose famous footsteps might I be following as I pound Horley's streets? Baden-Powell, Prince George, father and son speed freaks Malcolm and Donald Campbell, and the aforementioned Jack Fairman, himself a successful Grand Prix racing driver in his time – yes, all these famous folk once lived within Horley and the locality.
The Horley Local History Society was formed in the early 1950s by residents who had a keen interest in such things and who wanted to provide a forum where information from the town's earliest beginnings to the present day could be gathered and discussed.
More than 60 years later it is still going strong and has a wealth of information about this fascinating town, its inhabitants and its past – and they don't keep all this knowledge to themselves!
Twice a week society members can be found at Horley Library where they are on hand to answer questions and provide information about the town's history.
They assist those researching family trees and encourage the collection of historical data, information and photographs. They also hold details of the family history and wills of notable residents along with film and microfiche records.
Some members have produced publications including 'Men of Horley 1914-18, Lest We Forget' which details the 122 men named on the War Memorial.
There is also a collection of maps dating back several centuries, along with parish and census records which make fascinating reading (I once discovered that the tiny Wimbledon house in which my husband, baby son and I jostled for space in 1995 housed a family of 14 in 1911!).
Meetings are held the fourth Thursday of each month at 7.30pm in the Methodist Church Hall, Victoria Road, with guest speakers and members giving regular talks, visitors are very welcome
(£1 entrance fee).
In an age when technology and 'progress' urge us to look continually ahead, it is tempting to ignore the past or so disregard how our predecessors have shaped our towns and so consequently, shaped us.
Horley is no different; it has a long and colourful history which deserves a closer look…
[box type="shadow" align="" class="" width="600″]For more information, visit:
www.horleyhistory.org.uk
Library sessions on Tuesday 3pm – 5pm and Saturday 11am-1pm[/box]
By Sarah Ballingal