A Hidden Gem in the Heart of Surrey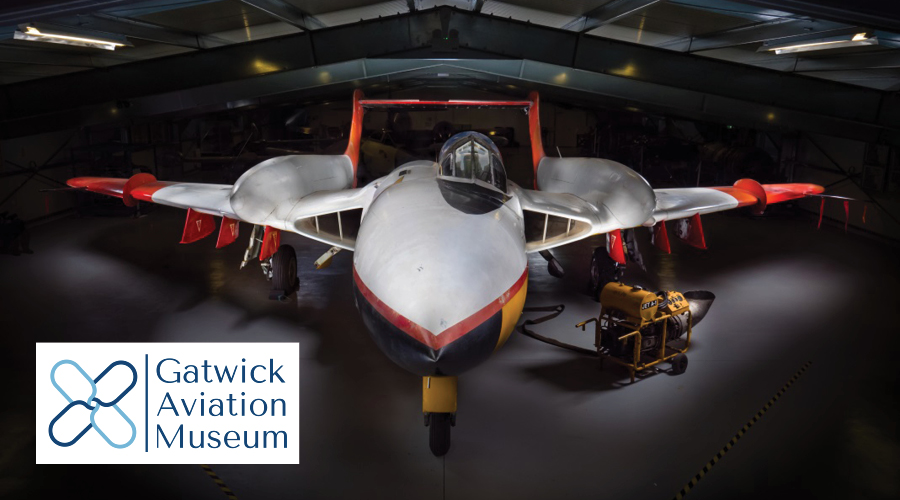 Although located just a stone's throw from a busy international airport, the Gatwick Aviation Museum in Charlwood has for some time, been a hidden gem.
Thankfully, more and more visitors are now discovering this fantastic and unique collection of aircraft, engines and memorabilia which celebrate the golden age of British aircraft manufacturing.
There's also a developing exhibition tracing the history of Gatwick Airport itself and some of the many commercial airlines which operated there.
The iconic Avro Shackleton is open to visitors and offers a unique opportunity to learn about this wonderful aircraft from former crew members who have some amazing personal memories to share.
Both the Shackleton and English Electric Lightning are live aircraft and can be seen with their engines running on special event open days – something not to be missed!
For plane spotters, the viewing area located close to the runway offers one of the best locations to watch activity at Gatwick. You can also climb inside cockpits and come on board the Virgin Atlantic upper-class cabin. New for 2023, Pop's Coffee shop offers a range of tasty sandwiches and snacks, hot and cold drinks and a mouth-watering selection of sweet treats.
Founded in 1987, Gatwick Aviation Museum began as a private collection acquired by local Surrey businessman Peter Vallance. It was in 1990 that he decided to establish the Museum as a charity and welcome the public inside.
His aim was clear – to share his passion with the community through the Museum that he created to inspire future generations. Now through the hard work and dedication of Trustees, volunteers and staff, the Charity continues that mission to create an enjoyable, educational and engaging museum.
Open Friday to Sunday from 10-5 (summer hours) and 10-4 (winter hours), there's plenty of free parking and dogs are welcome in all parts of the Museum.
For more information visit gamc.org.uk