The Future Looks Bright For Amber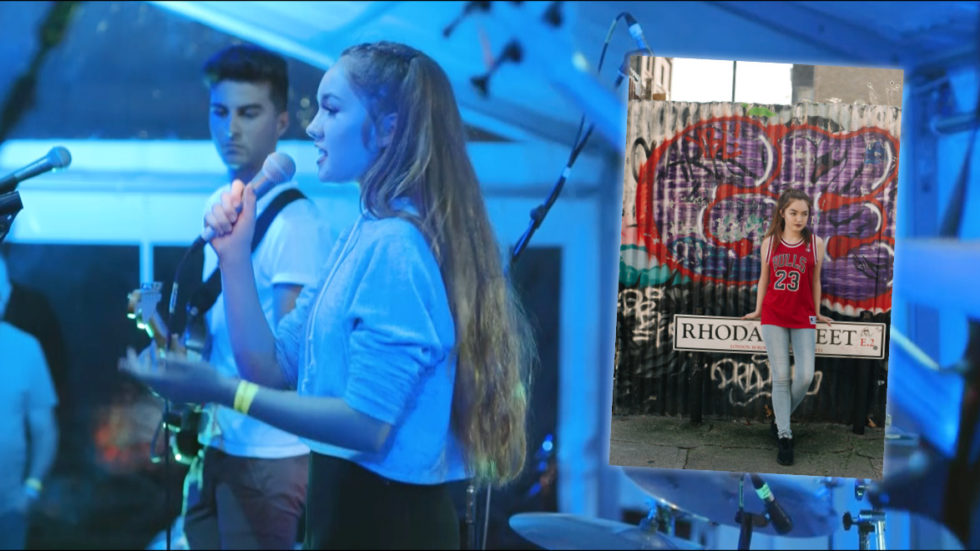 For one talented teenage singer from Felbridge the future is looking bright as she performs at packed venues, on bustling High Streets, and her music is broadcast on radio stations across Sussex and Surrey.
Singing sensation Amber Titchener, 13, from Felbridge has loved music and being involved in all kinds of performing since the age of just three when she performed during pre-school classes. By the age of six, Amber joined a youth theatre group and has to date secured 22 stage appearances under her belt, including starring roles at the Chequer Mead Theatre, The Hawth in Crawley, and The Stag in Sevenoaks – she most notably appeared as Miss Hannigan in Annie.
Not content with scripts, Amber soon picked up song sheets and at the age of eight taught herself to play the guitar, and by 11 years-old was playing the keyboard. At this point Amber started singing at local young singer showcase nights hosted by The Dorset Arms in East Grinstead. When she is not performing for crowds, Amber is creating music academically, she started a BTEC music course at Sackville School which she enjoys and hopes will give her a greater knowledge of music production.
So, which chart-topping global superstars of today inspire rising West Sussex star Amber? "I really like James Arthur, Sam Smith, Sia and Adele. They write such very good songs so are a massive inspiration to me. I like all types of music but these particular artists are my current heroes, although it's more a case of me really respecting their abilities as songwriters and performers" Amber says.
[box type="shadow" align="" class="" width=""]
Amber's Smash Hits
For all of Amber's latest news, visit: www.facebook.com/ambertmusic, www.twitter.com/ambertmusic, or www.instagram.com/ambertitchener1.
You can also listen to Amber's latest on her YouTube channel, visit: www.youtube.com/channel/UCOVfY4M6dm2pfsRBQ-ies2w
[/box]
Building up her portfolio of performances, Amber says performing pays off, adding: "Keep practising and when you are ready, find out where there are events. It's a great way to get experience and practise performing in front of people but don't do them until you're prepared. If you can, get some singing lessons as they can help you learn how to look after your voice and make it a lot stronger."
2017 saw Amber lucky enough to perform at various gigs including Eggfest at Sackville School which featured a massive outdoor stage where she opened the show to more than 500 people, as well as gigs in Horsham, Smallfield, Lingfield and Horley. A highlight saw Amber play at the biggest recording studio in Europe, Metropolis, the recording studio where stars including Adele, Rihanna, and Will I Am have recorded.
What is next for Amber? Aside from her studies, the teenager had a busy run up to Christmas with a series of projects both theatrical and musical, which included the Chequer Mead Theatre's birthday celebrations and a performance at the East Grinstead Christmas Family Festival and 2018 looks set to be another very busy year.
By Jacob White