Take A Flight Through Time In Balcombe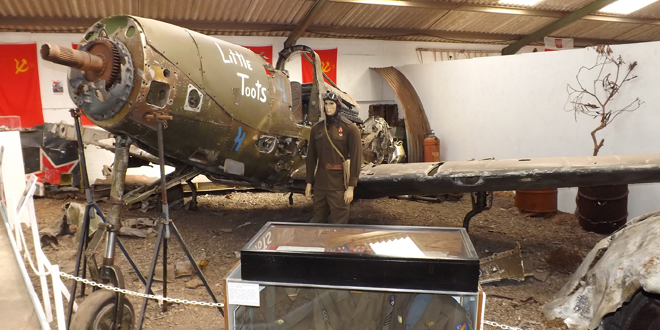 The Wings Museum in Balcombe is volunteer-run and has been awarded a certificate of excellence by TripAdvisor. It is open to the public every Saturday and Sunday from March 4 until Remembrance Sunday.
The museum provides a fascinating insight into life during the Second World War – each item of memorabilia exhibited tells its own story and the informative displays educate visitors of the sacrifices made in war.
Growing from strength to strength in visitor numbers the museum welcomes group visits both at weekends and throughout the week from groups and organisations and talks can be organised for schools.
Daniel Hunt, of the museum, said: "As new generations take over, it's easy for people to forget about the past. The terrors of war and the sacrifices made during wartime should never be forgotten.'
"A population that does not look back cannot look forward. The artefacts provide a tangible link to the past for future generations – something that cannot be gleaned from a history book."
The museum was founded by Daniel, his brother Kevin and their father Brian. Their interest was sparked when they found a gunsight from an American B-24 Liberator while walking across an airfield in Norfolk.
The bug for collecting military memorabilia took hold and has grown from a collection stored under a bed to 7,500 square feet of displays – the gunsight that started it all is on display in the museum.
One of the main exhibits is the fuselage of a Douglas Dakota that visitors can walk inside and experience for themselves, it was used for filming Steven Spielberg's Band of Brothers.
Wings have a comprehensive collection of photographs on display as well as the Redhill Book of Remembrance, where names of more than 70 pilots who lost their lives flying from Redhill during the war are listed.
Other displays include an abundance of memorabilia from the home front, RAF Bomber Command, the Battle of Britain, D-Day and more, including aero engines, airframes, uniforms, equipment and medals.
"Our plan is to create a wall of remembrance where individual stories can be told" Daniel says.
Inside the museum, there is a cabinet dedicated to those who lost their lives when a German bomb splinter hit Petworth Boys' School in 1942 killing 28 children, including Daniel's relative George Hunt.
The displays are memorials in their own right and Daniel and his team are always keen to hear from people who have artefacts that they would like to share, especially if it has a story to tell.
Wings are hosting several events in 2017, including a Meet the Bomber Boys session with veterans from Bomber Command sharing personal wartime accounts of these events.
[box type="info" align="" class="" width="600″]
If you are interested in the Second World War and would like to volunteer at the museum, visit: www.wingsmuseum.co.uk/
The museum is open Saturday and Sunday 10.00am – 5.00pm from Saturday, March 4.
Wings Museum, Unit 1, Bucklands Farm, Brantridge Lane, Near Balcombe, West Sussex RH17 6JT
Adults £8, Over 60's £7, Children 5-15 years £4, Family Ticket (2 Adults and up to 3 Children) £22, Children under 5 free – as a registered charity, all proceeds go back into the running of the museum.
[/box]
By Georgia Lambert