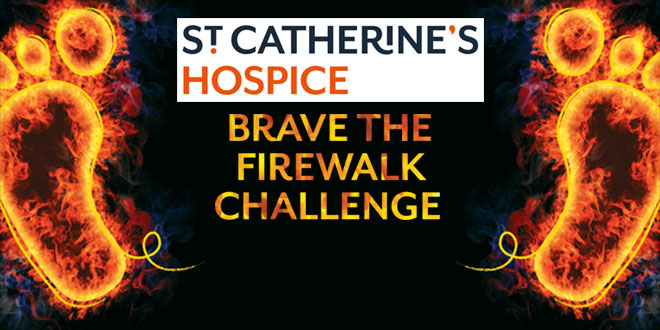 [three_fifth]
The Crawley-based charity with a big ambition – to help everyone face death informed, supported and pain free. The charity provides expert and pioneering hospice care for people in West Sussex and East Surrey when life comes full circle.
St Catherine's Hospice is there for people in West Sussex and East Surrey, with expert hospice care, when and where they need it most. Skilled teams are on-hand to support people living with terminal illness in their homes or at the hospice's day hospice and on our wards.
Tailored care
It could be a bath, a meal, or helping someone manage pain. For St Catherine's, care is whatever patients and those closest to them need it to be. It is different for all, and the charity empowers patients to make decisions whenever they can. St Catherine's also gives emotional, spiritual and welfare support to anyone affected by death and bereavement.
Pioneering standards
St Catherine's Hospice was established in 1983 and remains an expert in end of life care. The Sussex-based hospice is a leading provider of care, helping around 2,000 terminally ill people, their family members, friends, and carers each year. St Catherine's belief is that we are better and stronger together. The charity offers specialist healthcare training, it takes part in research and it also works with the wider hospice sector to pioneer standards in palliative care and support.
Community generosity
St Catherine's care and support is only possible thanks to the generosity of the community of Crawley and beyond who donate to and volunteers with St Catherine's. Each year around £7.5 million is donated by the charity's supporters and more than 800 people volunteer to help give tailored care when people need it most – generous local community support means that St Catherine's is there when life comes full circle.
[/three_fifth][two_fifth_last] [box type="shadow" align="" class="" width=""]

Is Human
The charity treats people with understanding, patience, respect and above all dignity. It is the welcoming smile, the talk over a cup of tea, the human touch.
Is Courageous
The charity stands firm, it does not flinch in the face of hard news, but always with humanity, sensitivity and respect for the community.
Is Energetic
Whether the charity is running a fun run or at the hospice greeting patients, staff and volunteers bring energy & optimism every day.
Is Connected
The charity is not an island, it thrives on partnerships and working with others, staff and volunteers believe we are better and stronger together.
Is Expert
The charity is looked up to by the community and peers as the organisation to go to for knowledge, training, best practice and latest techniques.
[/box] [/two_fifth_last] [box type="shadow" align="" class="" width=""]
Putting Their Best Foot Forward For St Catherine's!
Continuing our commitment to local charities and good causes this year, on the evening of Friday, March 2, RH Uncovered's features editor Jacob and one of our key account managers, Koo will take part in a sponsored fire walk in Crawley to help raise money for and awareness of St Catherine's Hospice.
As Jacob and Koo brave the hot coals for charity, can you help? They hope to raise £100.00 each which could help pay for four counselling sessions for two children who are grieving, to help them come to terms with the death of a parent. Can you donate to our latest fundraising event and help give much needed support to our local community?
To donate visit Koo or Jacob's just giving page. [/box]