Spiced Chickpea and Tomato Stew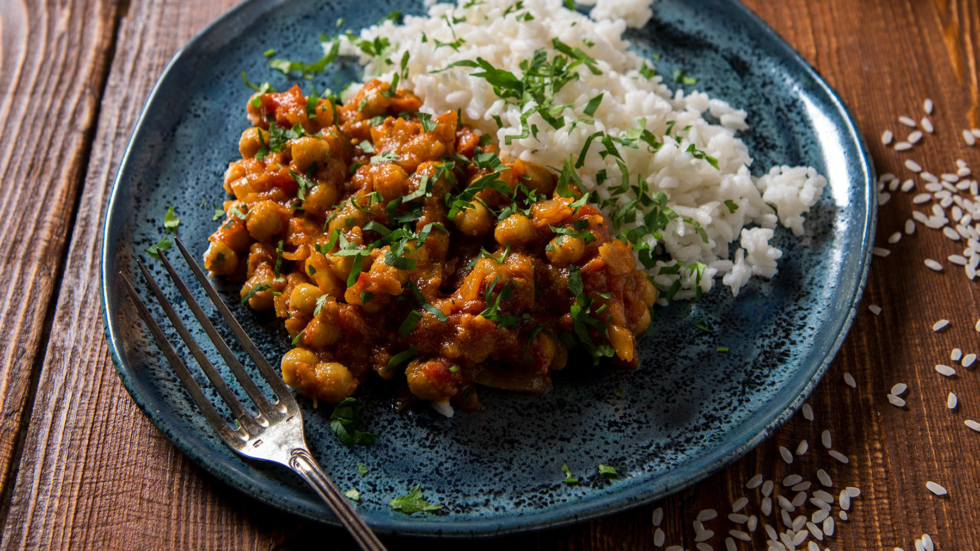 This warming veggie stew will hit the spot on a cold autumn evening. Serve with steamed couscous or orzo pasta instead of rice, if preferred.
Serves 4
Ready in 50 minutes
You will need:
1 tbsp olive oil
 2 onions, peeled and diced
2 garlic cloves, peeled and crushed
1 tsp ground cumin
2 tsp smoked paprika
1/4 tsp cayenne pepper
2 x 400g cans chopped tomatoes
2 tbsp tomato puree
1 tsp brown sugar
2 x 400g cans chickpeas, drained and rinsed
Salt and freshly ground black pepper
Cooked long-grain rice, to serve
2 tbsp freshly chopped parsley, to garnish
Method:
Heat the oil in a large frying pan over medium heat. Add the onions and fry for 8-10 minutes, stirring occasionally, until softened and golden, adding the garlic after 5 minutes.
Stir in the spices and cook for 1-2 minutes until fragrant then add the tomatoes, puree and sugar. Simmer gently for 15-20 minutes until the sauce has thickened, stirring occasionally.
Stir in the chickpeas and simmer for a further 10 minutes. Season to taste with salt and freshly ground black pepper. Serve with cooked long grain rice and garnished with the parsley.
Tip – Stir a handful of baby spinach leaves into the stew just before the end of cooking time, if liked.
If you would like to see more of our recipe's click here