Sight for Surrey Face Mask Exemption Cards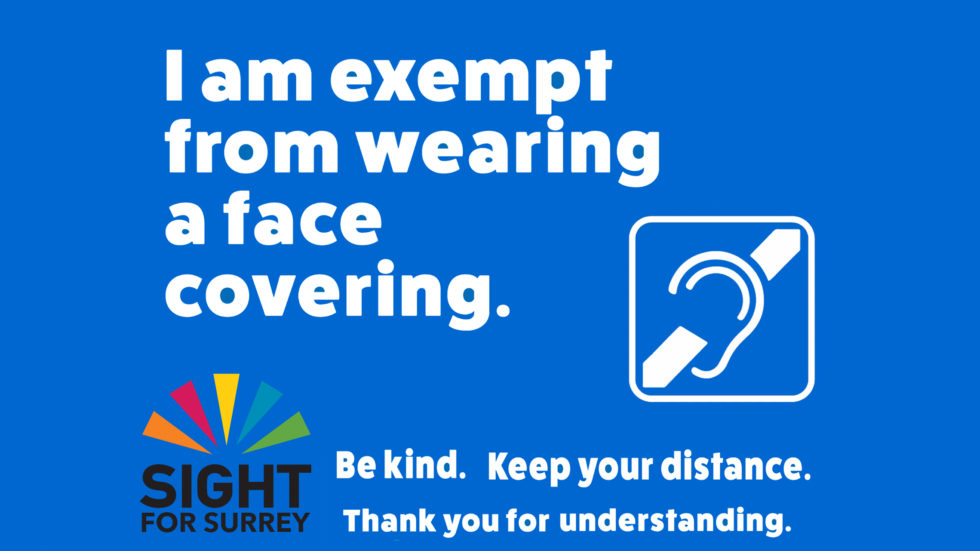 Sight for Surrey is fully committed to supporting people in Surrey who are blind, partially sighted, deaf, deafblind or hard of hearing, especially during these different times where the wearing of a face mask is mandatory in enclosed public spaces.
For people who are Deaf or with hearing loss and use lip reading wearing, of a face mask can have devastating consequences leaving them unable to understand and communicate with people around them. Sight for Surrey has designed a series of exemption cards that give an explanation of why an individual is not wearing a mask that can be printed off and worn or displayed.
Bob Hughes, Chief Executive of Sight for Surrey said "we have read and seen stories of Deaf people being abused by members of the public for not wearing face masks. We want to protect all the Deaf and hard of hearing people in Surrey from this abuse and hope these exemption cards will relieve the anxiety and pressure for Deaf people when out in the community during these times."
Sight for Surrey is a charity offering a lifetime of support to people who are blind, vision impaired, deaf, deafblind or hard of hearing. To read more about what they do visit their website here
Please can everyone be courteous and mindful of the fact that not all disabilities are visible and not everyone can wear face masks/coverings.