Saffron Adds A Pinch Of Flavour To The High Street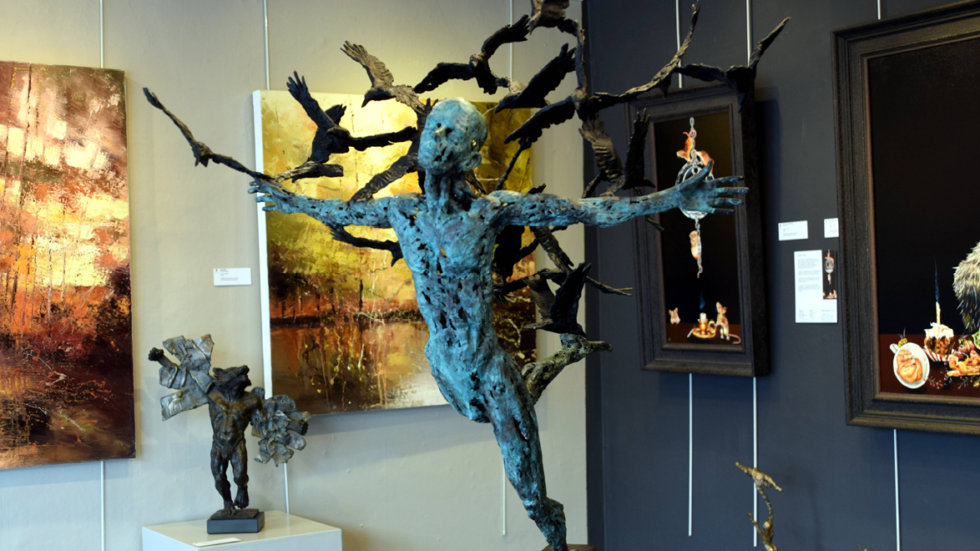 Saffron is a contemporary fine art gallery that moved to East Grinstead a little more than a year ago. Based in Battle since 1999, where it still has a presence, the business is owned by husband and wife team, Liz and Simon Honey.
The gallery's arrival was relatively low-key, but it has a growing reputation for exhibiting London-standard art, and a selection of work by both UK and International artists.
The visitor's book boasts comments such as, "exciting, stimulating work" and "a gallery full of surprise and imagination". Tucked away on the old High Street, the main gallery exhibits paintings and sculpture in five rooms across two floors.
The medieval building has been tastefully refurbished to display the eye-catching works and also houses the Sussex Framing Centre, who can provide a bespoke framing service on the premises.
In addition to viewing online and at both the High Street and Battle Gallery, it is also possible to view artwork in the comfort of your own home so you can admire your selected artworks on display.
When asked what prompted them to choose East Grinstead as their new location, Liz Honey said: "We considered locations very carefully when we were looking to expand the business. We chose East Grinstead for many reasons but we particularly love the historic High Street with all its independent shops, cafes and restaurants – this is the ideal environment for both Saffron Gallery and Sussex Framing Centre. We've received a very warm welcome from locals and visitors alike and have really enjoyed our first year here."
At any one time, the gallery showcases a number of artists, one of these is Philip Wakeham, and unlike many sculptors, Philip's unique and striking bronzes are cast entirely by his own hand. Initially working in pewter, he now works solely with bronze, focusing on the human face and body. According to the artist, his work is inspired and rooted in the figurative tradition, while drawing on the ideas of Carl Jung and Iain McGilchrist.
Studying graphic design at Canterbury and Birmingham, then sculpture at Morley College, London, another exhibiting sculptor is Brigitte Evill, an award-winning British sculptor who works in a variety of metals. After a major career switch in 2000, she won the V & A Museums 'Inspired by…' Sculpture Prize in 2006 with her piece, 'Ascent'. She currently works from her studio in East Sussex to produce large-scale sculptures in steel and bronze.
Featured artist, Sally Stafford has exhibited throughout the UK and also enjoys an annual residency in Portugal. She uses a technique of multiple layering of paint, ink, wax, pigment and metal leaf to depict scenes of orchards, meadows and blossom trees.
Saffron Gallery hosts a high quality and eclectic mix, bringing another strand to the High Street.
[box type="shadow" align="" class="" width="600″]
Art At The Heart Of East Grinstead
Saffron Gallery, 5, Middle Row, High Street, East Grinstead RH19 3AX
is open Tuesday to Saturdays, 10.00am – 4.30pm.
For more information, call: 01342 300685, or visit: www.SaffronGallery.co.uk, or on Facebook: www.facebook.com/SaffronGallery, or on Twitter: www.twitter.com/Saffron_Gallery
[/box]
By Rachel Whitlam