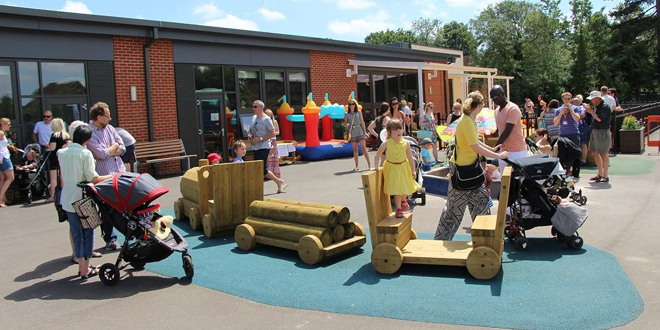 Each year across the UK, Parent Teacher Associations raise a huge £9,000 on average for their school. As school fete season is in full swing, I caught up with one Horley 'Friends' group to uncover all about their fundraising and how they fit in raising funds alongside a family.
Between 2014 and 2015 alone, the Friends of Horley's Trinity Oaks C of E Primary School (known as FOTO) have raised £4,668.93 – a very impressive total for a school of just 30 pupils! This year, the charity are aiming even higher (£14,000) to raise funds for playground equipment.
"Our fundraising efforts last year included movie nights, a fish and chips quiz night, Mother's Day pop-up shop, selling ice lollies during the summer, an Easter egg hunt and our hugely successful summer fair!'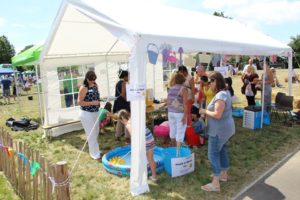 "We have used this money to buy play equipment which includes our wooden tractor, our wooden train, our oak leaf table and chairs and our new football goal posts," mum of two and Chair of FOTO, Emma Connelly explains.
"This year we are aiming to raise money for a large climbing frame for the playground. To do this we are working together on our hugely popular events from last year and we're also working on a torchlight treasure hunt around The Acres, a dads' and kids' camping night on the school field, a parents' outdoor movie night, having a stall at Horley Carnival and not forgetting our hotly anticipated circus themed Summer Fair on July 2."
This year's fundraising fair, taking place at the school between 12.00-3.00pm, will see stalls, circus skills area, pony rides, an inflatable assault course, a visit from Dave the Minion and so much more.
"Last year's first ever summer fair was a highlight for me," Emma says. "It was an amazing event to organise and participate in. The parents, staff and local community all came together and made it a pleasure to work on. The sun shone, and we raised a lot of money on that day which the children are benefitting from daily!"
With jobs and families to juggle, it can understandably be difficult to do everything. However, as Emma explains – she wanted to be able to use her professional skill set to do her bit for her children's school:
"My oldest son started the school when it first opened in September 2014, and I wanted to be involved in helping to make the school an outstanding and exciting place for the children to learn. In my job as a personal assistant, I am responsible arranging meetings, event organising and managing budgets which has all come in very helpful in Chair the FOTO. My second son starts there in September this year so I'll have double the pressure to put on a good show!"
"I enjoy working with my amazing committee. They work morning, noon and quite literally through the night at times to make things happen and I couldn't be prouder of what we are achieving together with the school."
We wish Emma and the team lots of luck with their summer fair! To join your PTA, simply speak with your child's school.