Making Sweet, Sweet Music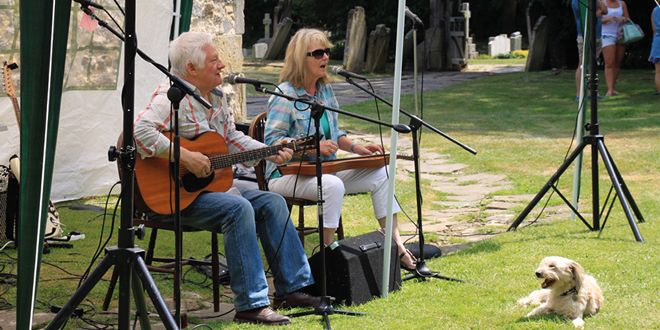 Didn't get tickets to last month's Glastonbury festival? Don't worry music lovers, as on July 22, 23 and 24; bands of all genres will be performing in picturesque Charlwood for a music event like no other!
Charlwood may be a small, quiet and tranquil village for most of the year, but for one weekend each summer, the village transforms itself into an electric and eclectic musical hub.
Whether you're into jazz, blues or folk, the Charlwood Music Festival is most definitely the place to be. Who can resist a sip of something cool, in the sunshine, while enjoying some toe-tapping tunes?
Now in its fourth year, the three-day festival will offer something for all music tastes, as organiser Peter Barclay (known locally as PB) explains: "The rock/pop event on Friday night was so successful last year that we have to have it back!'
Our daytime concert event on Saturday in the churchyard with BBQ, cream teas and bar will be on again, and this is where our local performers can be seen doing their individual things. On Saturday night we'll have the Anne Odell Quartet; international jazz musicians, giving us our concert in the church itself which has fantastic acoustics!"
The event will focus on shining the spotlight onto our local bands, such as; Anne Odell Quartet, Rawbones (bluegrass), Allan Bailey's Band (rock) and Martyn Wyndham Read (folk),
spanning all musical tastes.
Understandably, this is one of the key factors that inspired PB and the other six committee members to first host the event and still plays an important part of proceedings.
"We started the festival because we realised that we had an amazing collection of musical talent in the parish so we decided we could showcase the talent and raise some funds for community projects," PB continues. "My favourite thing about the festival is the community coming together and recognising how much local talent we've got!"
If we didn't know it already; Charlwood has most definitely got talent!
To view this year's full festival listings visit charlwoodandhookwood.co.uk or email Peter: music.charlwood@f2s.com for further information and ticket enquiries.
By Shelley Baker