K2 – A place for people with dementia to get sporty
There is a small, friendly group of active people who have been diagnosed with dementia that meet every Wednesday at the K2 sports centre in Crawley. Run by the Alzheimer's Society staff; it's for people who want to try out new activities and have the opportunity of meeting new people.
There is a chance to try out table tennis, short tennis, volleyball, badminton and swimming and make use of the gym equipment while being supported by Alzheimer's staff and volunteers.
You don't have to be brilliant at sport but just be willing to give it a go. The group helps to keep people with dementia physically and mentally active as well as being as independent as possible.
At the point when dementia is diagnosed, the members may have been used to taking part in active pursuits all their life or been out and about working and taking care of families so to suddenly have to stop doesn't make sense yet this is all too often what happens.
As the condition progresses, it can become more challenging to take part in conventional team sports, so these sessions offer people the chance to continue with exercise which, in turn,
is good for keeping the brain active and also widens the opportunity for social interaction with like-minded people. Taking part in activities can help people express themselves, something that some people find harder to do verbally as the condition progresses.
Eliza Vaughan, Alzheimer's Society Operations Manager for Sussex said, "Taking regular physical exercise is an important part of a healthy lifestyle and can help maintain wellbeing. Physical
activity creates valuable opportunities to socialise with others, and can help improve and maintain a person's independence. Engaging in physical activities can also improve self-esteem and mood, which in turn encourages more social engagement that may also contribute to wellbeing."
If you would like to support the charity, Alzheimer's Society will also be holding Christmas Carol Concert.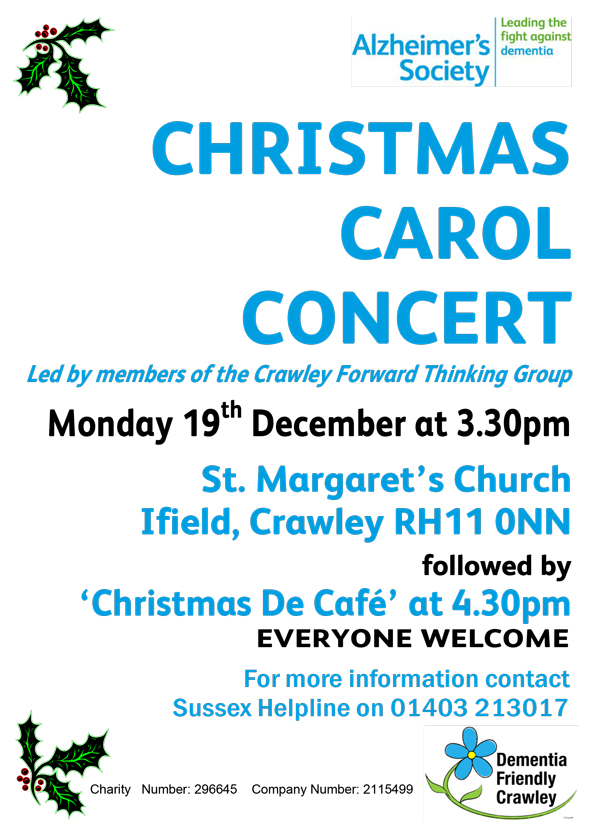 The K2 Club meets every Wednesday from 10.00am – 3.30pm at K2 Leisure Centre, Pease Pottage Hill, Crawley, RH11 9BQ.
To find out more about the group, call the Alzheimer's Society's Sussex Helpline: 01403 213017, or email: sussex.helpline@alzheimers.org.uk
If you are interested in volunteering to help them for a few hours, you should contact Louise by email: volssussex@alzheimers.org.uk
By Rachel Whitlam