Fruit and Nut Energy Balls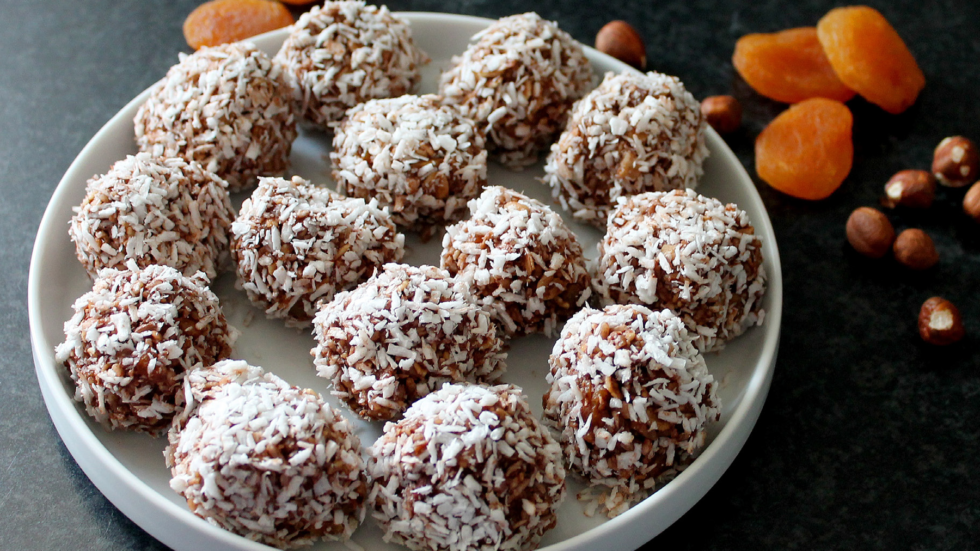 These no-bake energy balls are packed with dried fruit and nuts and are great for on-the-go snacks. They can be stored in the fridge for up to two weeks.
Makes 14 
Ready in 30 minutes, plus chilling
Ingredients:
50g hazelnuts, chopped
50g pecans, chopped
50g dried ready-to-eat apricots, chopped
50g Medjool dates, stones removed and chopped
2 tbsp smooth peanut butter
1 tbsp coconut oil, melted
50g desiccated coconut
1 tbsp honey or agave syrup
Method:
1. Place the hazelnuts and pecans in a food processor and pulse until finely ground.
2. Add the apricots, dates, peanut butter, coconut oil and half the coconut to the processor and process until everything is combined. Add the honey or agave syrup and pulse briefly.
3. Divide and shape the mixture into about 14 balls. Spread the rest of the coconut on a plate and roll each ball in the coconut to coat. Chill for 1 hour or until firm. Store in an airtight container in the fridge.
Tip – Use any combination of nuts you prefer and replace the dried apricots with dried figs or prunes for a change of flavour.
If you would like to see more of our recipe's click here