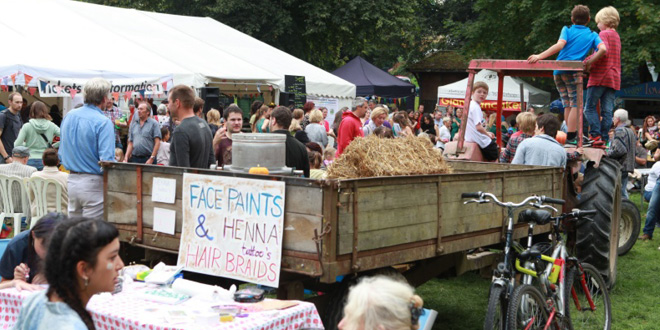 Starting with a humble bike ride in 2001 and evolving into a community festival in 2005, the Forest Row Festival has grown over the years and is always a favourite annual event with those living in the village and beyond!
To UNcover all the goings-on for the 10th Forest Row Festival taking place between 18th – 20th September, we spoke to Isabelle Clinton the Events Organiser, from the eleven-strong volunteer festival team:
What can we expect to find at this year's event? Well, first of all, the fantastic atmosphere of a huge, laid back party full of friends old and new, and the chance to see or take part in things we love – be it music, browsing, eating, dancing, taking a writing workshop, watching a performance, doing the bike ride, smiling in the sun…or enjoying a local artisan beer in the Beerfest! As ever, it's a great opportunity to experience our amazing local talents.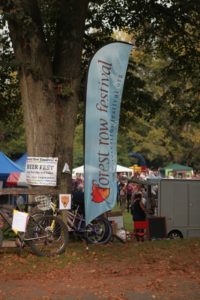 There's always so much going on – can you share just a few highlights? On the music front, Friday night will be dedicated for our young people, and free to all, Saturday has an amazing line up of crowd pleasers with Kangaroo Moon, Caravan Band, Swamptown Boys, and the return of Funkee Junkee, Sunday will have a more bluesy, folky, jazzy feel, with Beerfest, Poetry open mic, grown-up storytelling, children's activities, silent movie, workshops, orchestras on the green, the fabulous market….and a fantastic youth dance and music show finale at Michael Hall theatre. Take your pick!
What are you personally looking forward to the most? I am looking forward to seeing lots of happy people, those who perform or put on an event, and those who come to enjoy them! This is what I enjoy most: creating something which takes a life of its own and belong to the amazing community that is Forest Row – be it creative, talented people, or those who come to attend – where each person can feel they belong.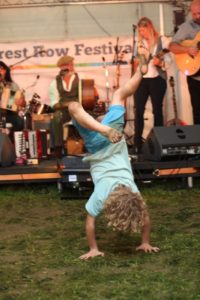 You'll be celebrating International Peace Day – can you tell us any specific plans? Our Interfaith Ministers will be holding a special celebration on Sunday 10am in the community centre to remind us of the true spirit of the day and so that all can have a really joyful day with friends all around. More will be revealed nearer the time!
"Treat yourself and come! Your life will be changed forever after! And leave the car at home…"
See the full programme of events by visiting: www.forestrowfestival.org.uk.