Five Boredom Busting Tips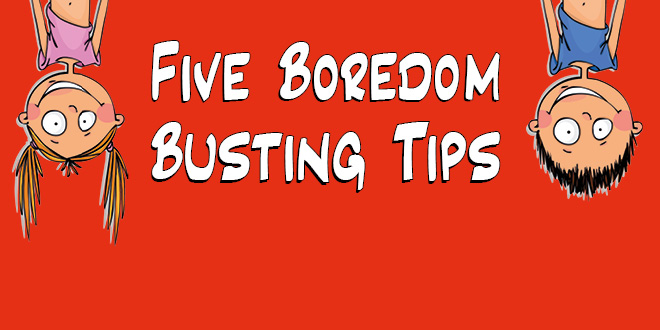 Play-date
Play-dates give children the opportunity to let-off steam, socialise and allow their imaginations to run wild. They also provide parents/ carers with a few minutes of peace, while their little one is occupied = win, win. Organise a few hours of play with a friend, each week – perhaps you could take it in turns to look after the children, so that you get a well-deserved break too?
On Yer Bike
We're constantly told that today's generation of children are not active enough, with a recent campaign from Change4Life finding that 72% don't take part in the recommended daily hour of activity. Sunny, warm days provide the perfect excuse to get out and about and enjoy that daily dose of exercise. Try cycling, skipping or playing football – or even think about holding your very own sports day!
Make Memories
Many parents feel under pressure to do something spectacular each day of the summer holidays, however, finance (it's estimated that parents spends £1200 on holiday activities, per child!), time restrictions and work commitments can mean that this just isn't realistic. Instead, focus on making long-lasting memories that the kids will look back and remember. Whether it's feeding the ducks, having an indoor picnic or enjoying a family day out at a theme park – just enjoy spending time together, after all, they'll be back at school again soon…
Get Crafty
Regardless of their age, getting messy and creative is always a great way of spending a few hours. It can also be beneficial to their growth too, with studies suggesting that children who enjoy making things, not only develop higher thinking skills, but also their self-esteem skills too. For little ones, unleash the finger paints, colouring books or create sock-puppets, and for older children, why not let them customise unworn clothes or tired trainers into something cool and trendy? It's up to you whether you let them loose with the sewing machine or glue gun…
Host a Bake Off
Who doesn't like cake? Find your favourite recipes (or perhaps teach the kids a family recipe!) and start baking, to create delicious concoctions, well deserved of that Star Baker title. Invite friends and family to take part too and make an afternoon of it – who knows, you could just have a future Mary Berry or Paul Hollywood in your midst!