Falling For You(th Clubs)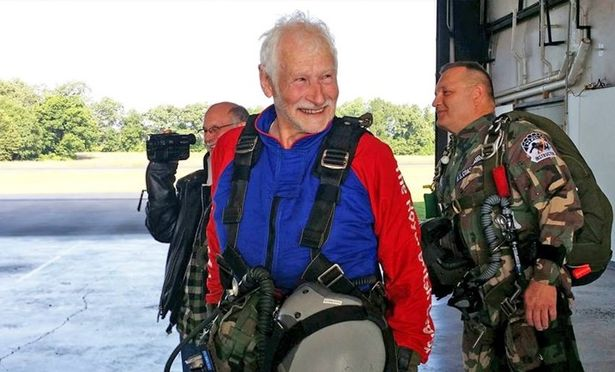 While many octogenarians might be hopping off the 430 bus to do a bit of shopping in Reigate, on Friday, August 18, 81-year-old David Powell will be jumping out of a plane at 30,000 feet to land in Memphis!
David currently holds two HALO (High Altitude Low Opening) Skydiving World Records – as the first mayor in the world, and oldest person in the world to tandem skydive from this height. Free falling at 300mph for more than two minutes, HALO is used by special forces to drop unseen behind enemy lines. Memphis, in the USA is the only place in the world where civilians can be licensed to do this, and he will personally foot the bill.
As a soldier of 25 years David is no stranger to excitement, and alongside his courageous career, his hobbies have included scuba diving and motor cross. He was spurred on to his first skydive when he heard of Essex's Roy Woodward's record-breaking leap at a mere 71-years-old. In 2014 when David was 78 he broke Roy's record, jumping to mark the First World War centenary and the 70th anniversary of the death of his father who died in action in 1944.
Plummeting to the ground at hundreds of miles an hour shakes him to bits, and David says: "When I did it the first time, I said to myself; 'Thank God I haven't got to do that again'. But you soon forget!" David completed his second jump last year raising £10,000 each time for the British Royal Legion.
This year, his chosen cause is Surrey County Council's youth club scheme in Redhill, Merstham and Horley. Each club night costs £6,000 a year to run, and they are an essential service for youngsters who might otherwise receive little support and encouragement in their personal lives.
In a warm, friendly, family atmosphere the clubs provide mentoring, training and guidance for teens, and along with games, crafts, dancing and cooking these help build confidence and self-esteem, even in the most diffident of characters. One young man describes worker, Mel, as "The loveliest lady I have ever met in my life!"
At a time when life is especially hard for young people in our society, it is clear that these clubs fulfil an essential role in their lives and consequently, they need to be open for as many nights as possible. Unfortunately, they are currently only open for two to three nights a week, and David is passionate to see this increase, so all donations for his August skydive will go towards this provision.week, and David is passionate to see this increase, so all donations for his August skydive will go towards this provision.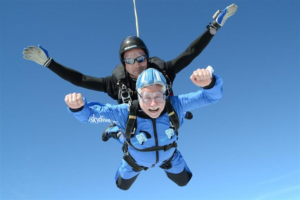 Although he launched the project in April with the hope that local companies and businesses would step up to support and sponsor this fantastic work sadly, there were no takers. David is now spreading his fundraising net further into the public arena with the hope that it will inspire residents to donate. How about you?
[box type="shadow" align="" class="" width="600″] For more information about the challenge, and to donate, visit: mydonate.bt.com/fundraisers/davidpowelyfe [/box]
By Sarah Ballingal