Local schoolboy wins national competition and now his artwork will be everywhere!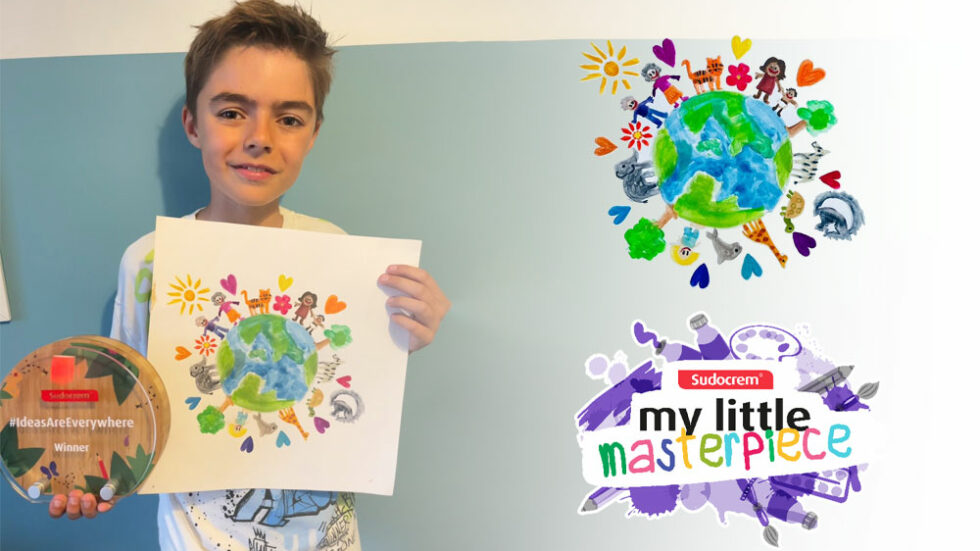 A local schoolboy has been chosen as the overall for his entry into a national art competition.
The My Little Masterpiece campaign was launched by Sudocrem in a bid to get children engaged in the world around them and to boost their creativity.
9-year-old Finlay Dore from Reigate, Surrey, has been chosen as the campaign's winner from over 1,300 entries for his little masterpiece – a colourful painting of people and animals living peacefully together around the earth. His artwork will now appear on thousands of limited edition pots of My Little Sudocrem.
Finlay's emotive painting shows people of all ages and nationalities together with animals and plants of all shapes and sizes around the planet they all call home, Earth. Finlay even showed one side of the planet enjoying the sun while the other enjoys the beauty of the moon and stars.
He said, "I wanted to paint a picture of all the people, animals and nature all around the world living in peace and harmony together."
Alice Bamford, Senior OTC Marketing Manager at Sudocrem says, "Art is not only great for boosting creativity but it's also really soothing. Finlay's colourful drawing of people and animals at peace around the earth demonstrates how art is a powerful form of communicating how children feel about what they see around them.
We are delighted to announce Finlay is the winner of the My Little Masterpiece competition and to see his work on a limited edition range of My Little Sudocrem."