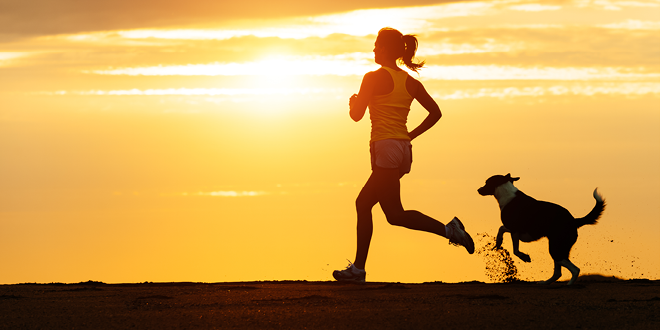 Think just walkies or a game of fetch will keep your dog happy and healthy? Think again – there are plenty more 'pawfect' ways that will help your four-legged friend stay fit, in shape and disciplined. Who knows – you could find yourself getting fitter too!
Set up an obstacle course
An obstacle course can keep your pup's body and mind in tip-top shape, and they are easy to set up in your garden! Use cones, or plastic bottles for weaving in and out of, wooden planks, pop-up
tunnels and even the kids' slide for a fun agility course guaranteed to get them – and you – panting.
Go for a run
Running is not only good for us humans but our dogs too. Running – at a steady pace, increases your dog's stamina and strengthens their muscles, leaving them fitter in the long term. Pound the pavements of your usual evening walks or let your dog run free on your weekend walks. Just don't run too fast for dogs with little legs; you don't want to tire them too quickly or cause them to pull any muscles.
Play flyball
You may have seen flyball at Crufts, been amazed at the speed of the furry four-legged competitors and thought that it was just a sport for well-trained athletic dogs. Why not have a go with your dog? Find a club or teach your dog yourself! Get your doggy-loving friends and their pets together and spend an energetic afternoon hosting a relay!
In a game of flyball, dogs are in teams and race down a course complete with hurdles to get a tennis ball from a box at the end of the course and then run back to the start, tackling the hurdles with the ball in their mouths. The aim of the game is to finish first. While your game may not be Crufts standard, it will be fun, and everyone involved will get a good workout!
Sniff and search
Another game that you can easily set up in your garden! Hide treats and your dog's favourite toys in difficult-to-find places in your garden and encourage them to sniff them out and bring them to you, quickly. This can be played throughout your home on days when walkies due to the temperamental British weather isn't an option!
Puppy play
We all know that dogs love to socialise and it is a natural way for them to keep fit. Next time you plan to meet up with fellow dog walkers, let your dog enjoy running, rolling and playing with other dogs to burn calories and build their social skills!
By Shelley Welti