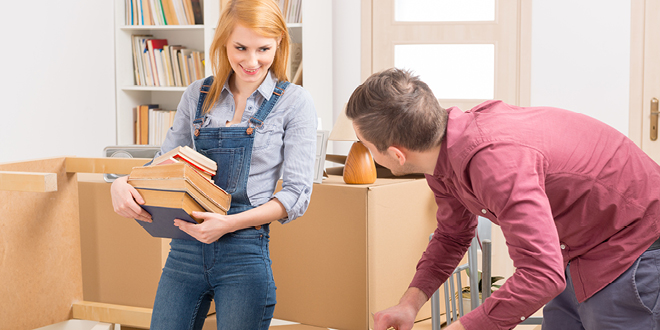 The phrase "A place for everything, and everything in its place" is never more apt than when thinking about unpacking after moving home. By following this simple motto you're sure to improve your life and bring harmony to your living and storage spaces – it's as easy as decluttering, re-arranging and organising; and the result is a warm, inviting and beautiful environment.
Before you start the packing at your old home, begin the 'de-clutter' phase – get rid of anything you don't need in your new home or, at least straight away. From this starting point, you will minimise the amount of items you have to pack – there are a vast range of options available to you for this.
From self-storage companies, recycling and refuse companies, removal companies and domestic cleaners, there are an army of businesses out there who can help you organise your entire new home and in doing so eliminate stress and simplify your life – it's time for a life laundry!
Self-storage is a practical way of safely and securely storing your belongings on a short-term basis. There are more than 970 facilities across the UK offering rented spaces secured by a tenant's own lock and key – some offer boxes and locks for sale to safeguard their goods and may also offer van rental.
[box type="shadow" align="" class="" width="600″]
TOP TIP
For unpacking, move the boxes into the appropriate rooms and do an unboxing in each room that you intend for the items to go in. It's at this point you can consider layout better – how large things like beds and tables will be organised in the room. It's best to do this before the smaller items.[/box]
If some of your belongings cannot be donated, or sold then a reliable, efficient and environmentally-friendly solution is a recycling and refuse company. They'll take your unwanted furniture and household goods – some will be re-cycled, and some may even be upcycled and given a new lease of life and a new home! With skip and waste bag hire readily available, you will be able to place your unwanted garden and household rubbish in tough and durable containers.
Domestic cleaners are an affordable and trustworthy choice when you're on the move – they provide a hassle-free approach to carrying-out the chores which you might hate!
Windows, carpets and any upholstery which you might (or might not be taking if you've been renting) can be spruced-up ahead of a move!When you've decided what you're taking with you, be sure to hire a good-quality removal company – there are a truckload out there and they can provide removal services locally, nationally and internationally and sometimes offer all-inclusive services such as packing and unpacking.
[box type="shadow" align="" class="" width="600″]
TOP TIP
Essential items to unpack first – Toilet paper, hand and body soap, shower curtain, bath towels, shampoo, toothbrush, toothpaste, deodorant, paper towels, rubbish bags, scissors, a change of clothes, vacuum, broom, dustpan and brush, pillows, bed sheets, and pet food and bowls.[/box]
The unpacking guide, room by room:
Kitchen – Food, dishwashing supplies, drinking glasses, plates, pans, and anything else.
Bedroom – Make beds and organise wardrobes.
Bathroom – Remaining non-essential items.
Laundry room – Separate dirty clothes.
Home office (If you have one) – Set-up electrical equipment.
Dining room – Arrange the table and chairs.
Lounge – Make the family room fit for family with creature comforts.
The garage and storage spaces – The last on the list and ones which might take weeks!
By Jacob White