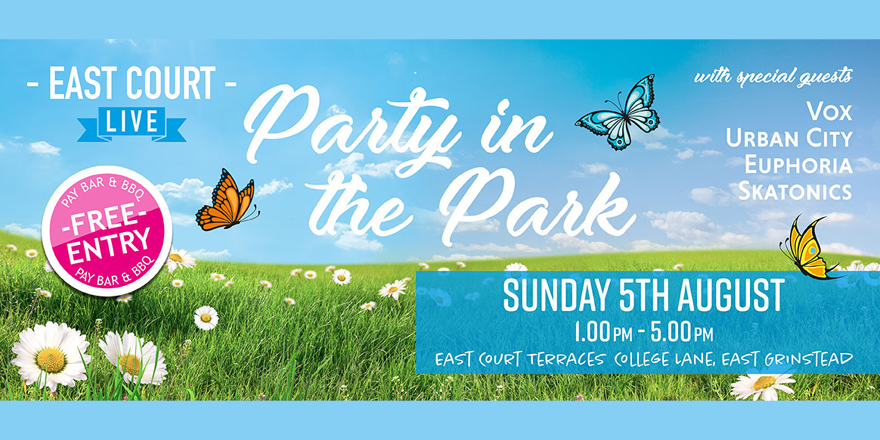 For the third time this summer, East Grinstead's free East Court Live! event returns to the East Court Terraces, and following successful events in June and July, August promises to be louder than ever.
This month witnesses the final East Court Live! of 2018 and following hot on the heels of the previous two successful events in 2018, organisers promise it should be a fantastic party in the park this August. August's line up will once again have something for all audiences and will boast a host of East Grinstead regulars and new performers – get set, pack your picnic blanket, settle
back and enjoy the show!
East Court Live's Stars For Your Eyes
Vox
Vox is a five-part vocal harmonies group that sang together previously with the successful East Court Live! regulars, Step Up & Sing Choir. All of the talented performers sing in their own right and their special set includes group and accompanied solos which are varied and appealing to a wide audience.
Urban City
Founded in 2014, Urban City wow audiences with their innovative and enthusiastic dance routines. The dance company has worked with guest teachers from across the entertainment industry
who have worked on shows and music videos such as Thriller Live, Kanye West, Little Mix, Robbie Williams.
Euphoria
East Grinstead's very own, Euphoria, always a crowd's favourite, the band is regularly found entertaining audiences across the South East of England, Euphoria will wow you with an energetic set, featuring great musicianship and powerful vocals which are bound to get audiences up and rocking.
Skatonics
With an enthusiastic Ska following, Skatonics, have for the last 10 years played at prestigious and iconic venues in the UK and Europe. The band prides itself on an authentic look and sound – sharply dressed in tonic suits, pork pies and loafers to match the energetic sets they perform to a loyal following of fans.
For more information about East Court Live on Sunday, August 5, visit: www.eastcourtlive.co.uk