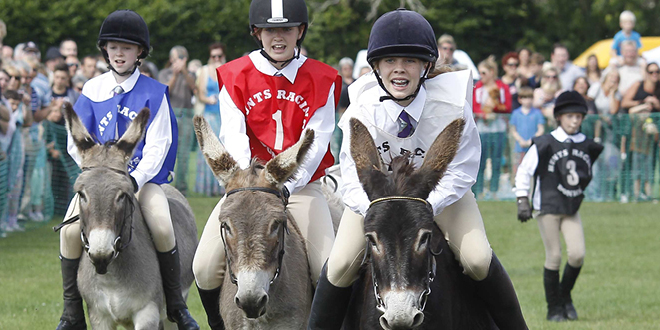 I am always interested to hear of any fun event that takes place on September 11.  This date just happens to be my birthday but after the tragedy of America's 9/11 in 2001 what was once a happy day is now tinged with sadness. 
Consequently, when I discovered that the Horley Lions Club is organising a Dog Show and Donkey Derby on that fateful date I was delighted. Dogs and donkeys together in one place? That can only mean one thing… FUN!
This will be the third year that the Club has arranged this event and its popularity is increasing. The Dog Show will have classes to suit dogs (and owners) of all kinds from proud pedigrees to 'Heinz 57s'. Categories include 7 Pedigree Classes, 11 Fun Classes, Agility and Scurry Classes, and The Kennel Club Good Citizen Dog Training Scheme.
The venue is Horley Recreation Ground on Brighton Road – entry to the event is free and gates open at 11.30am. Judging for the first Dog Show class will be at 12.30pm, as will the first Donkey race. Jockeys will be riding steeds provided by 'Hunts Racing Donkeys Ltd' from Guildford.
This is an RSPCA approved company which ensures that these animals are well cared for and on tip top racing form, although the term 'racing' is used loosely. Donkeys are unpredictable creatures and aren't known for their sense of urgency, but this all adds to the thrill and if you're game enough to put a wager on there'll be a Tote available for spectators.
All this excitement will be thirsty (and hungry) work and the Lions' barbeque stall and the customary ice cream vendor will be on hand to provide tasty sustenance. There will be an array of stalls supporting local charities and good causes, all adding to the carnival atmosphere. The aim is toraise funds and it is hoped that the day will result in at least £4,000 being donated to charities which work with needy and vulnerable young people in the community.
When they aren't combining dogs and donkeys the Horley Lions have plenty of things to keep them occupied throughout the year, all with a view to raising money for their chosen charities through their own charitable trust.
They run an annual Horse Show, Skittle tournament, Carnival Parade, Firework Display and they host Father Christmas' visit to Horley.
Even at non-Lions events their own Barbeque Trailer is often busy providing fabulous food. In total they raised £40,000 last year which is a hard act to follow and £35,000 is their aim for 2016/17.
Lions Club International is the world's largest community service club with nearly 1.4 million members – 30 of whom are in the Horley branch. Established in 1963 this local club has been
contributing to community life ever since. So if you're into dogs and donkeys don't be an ass, join The Lions and help put the fun in their fundraising!

By Sarah Ballingal