Crispy Topped Deep-dish Apple Pie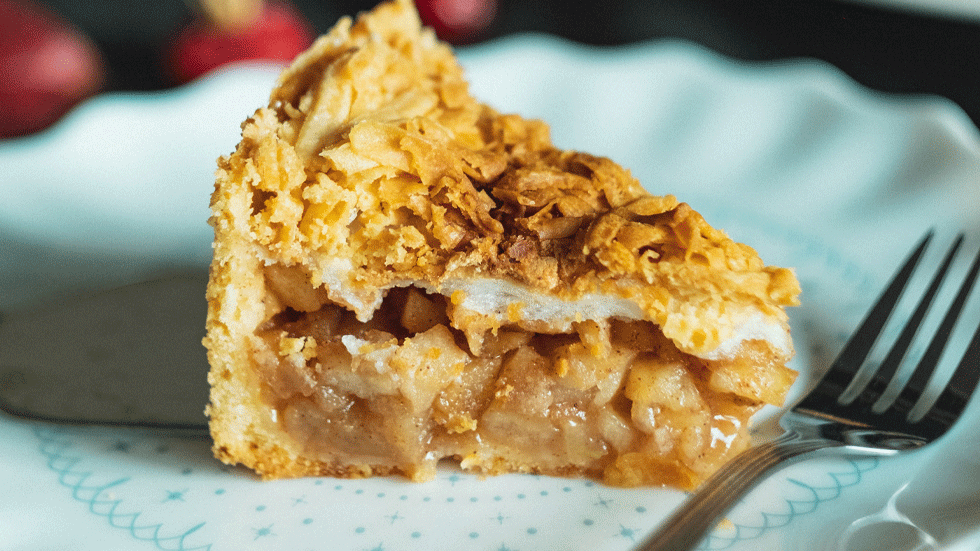 Make the most of the abundance of home-grown apples at this time of year with this delicious deep-dish apple pie. Serve with cream, custard or ice cream.
Serves 8               
Ready in 1 hour 40 minutes, plus chilling and cooling
For the Pastry Case and Filling
500g ready-made shortcrust pastry, thawed if frozen
Flour, for dusting
1kg eating apples, peeled, cored and diced
100g caster sugar
2 tsp ground cinnamon
1 tbsp lemon juice
1 egg, beaten
For the Crispy Topping
40g unsalted butter
40g light soft brown sugar
50g toasted flaked almonds
For the pastry case, roll out two-thirds of the pastry on a lightly floured surface and use to line a greased 23cm round spring-form cake tin (the pastry needs to come right up the sides of the tin). Chill in the fridge. Preheat the oven to 190C, 170C fan, gas mark 5. Place a baking sheet in the oven to heat up.
For the filling, place the diced apples in a bowl and stir in the caster sugar, cinnamon and lemon juice. Spoon the mixture into the pastry case. Brush the rim of the pastry case with beaten egg. Roll out the rest of the pastry to a circle large enough to cover the filling, and drape over the filling. Pinch the edges together to seal then trim off any excess pastry. Brush the top with beaten egg.
Bake the pie on the preheated baking sheet for 40-45 minutes until the pastry is pale golden.
For the crispy topping, heat all the ingredients in a medium pan and let bubble for 2-3 minutes. Remove the pie from the oven and gently spread the hot mixture over the top of the pie. Return the pie to the oven for a further 10-15 minutes until the topping is crunchy. Serve warm or cold.
Try replacing the apples with diced pears if liked, or try a mix of both
For more of our recipes click here