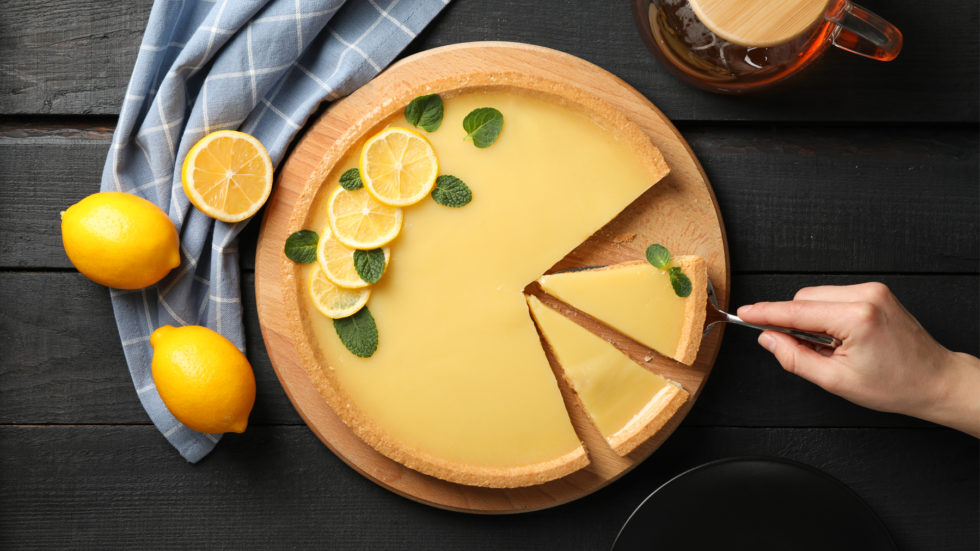 This divine dessert has a crisp and buttery pastry case filled with a tangy lemon cream filling.

Serves 8
Ready in 1 hr 30 mins, plus chilling and cooling
Ingredients:
300g ready-made sweet shortcrust pastry
Flour, for dusting
Grated zest and juice from 3 large lemons
100g caster sugar
2 medium eggs
2 medium egg yolks
150ml double cream
Lemon slices and mint leaves, to decorate
Method:
Roll the pastry out on a lightly floured surface and use to line a 23cm loose-based fluted flan tin. Trim the edges and prick the pastry base all over with a fork. Chill in the fridge for 30 mins.
Preheat the oven to 200C / 180C fan/gas mark 6. Place a baking sheet in the oven to heat up. Line the pastry case with greaseproof paper and baking beans. Bake on the hot baking sheet in the preheated oven for 10 mins. Remove the lining paper and beans and bake for a further 5-10 mins until the pastry is pale golden.
Reduce the oven temperature to 170C / 150C fan/gas mark 3. In a large bowl, whisk together the lemon zest, sugar, eggs and egg yolks. Gradually whisk in the double cream and lemon juice. Leave the mixture to stand for 10 mins.
Pour the lemon mixture into the pastry case and bake for 30-40 mins until the filling is just set – it should still be a little wobbly in the centre. Leave to cool in the tin. To serve, carefully remove the tart from the tin and decorate with lemon slices and mint leaves.
Tip – Allow the pastry to come to room temperature for about 30 mins before rolling out, otherwise it may crack.