Community Hero: Peter Moxley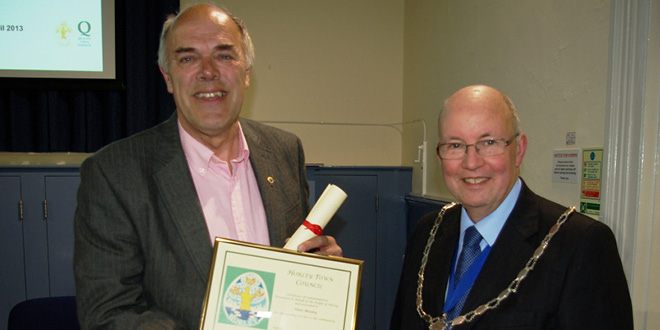 Most residents in Horley will know (or at least know of!) Peter Moxley, so it was no surprise that he was a very popular nomination to be this month's Community Hero. The former bank manager has devoted over thirty years to being an active member of community groups and organisations – including Horley Lions, Horley Cricket Club and Young Epilepsy and shows no sign of slowing down!
Joining both the Lions, Horley Cricket and Hockey Club in 1982, Peter has dedicated thirty-three years to helping organise some of the town's most favourite events, including Skittles Week, Horley Carnival and Donkey Derby, in turn raising money to benefit so many local causes, including Riding for the Disabled, Young Epilepsy and Christmas food parcels for those in need, along with so many more.
In recent years, Peter was recognised by Horley Town Council for his contributions to the community – Deputy Town Clerk, Carol Fenton told us:
"The Town Council has been delighted to work with Peter Moxley over many years, making our grounds available for Horley Lions events such as the Annual Dog Show and more recently the Donkey Derby.
Members and officers from the Town Council have been working very closely with Peter and representatives of other voluntary organisations in recent years, following the very successful revival of the Horley Carnival. Peter and the Lions will be at the forefront of this year's Bonfire and Firework Display at Horley Recreation Ground, his energy and enthusiasm clearly know no bounds!"
While Andrew Harper from Horley Lions adds: "Peter's drive for the well-being of others, particularly those less fortunate, and his ability to add fun and humour is major factor in the success of the Horley Lions Club."
Don't forget – Horley Lions Donkey Derby will be taking place on 13th September, to find out more visit: www.horleylions.org.uk or check out next month's community section!
[box type="shadow" align="" class="" width="800″]
Congratulations
(and thank you for all of your continued hard work)
Peter! You really are, in every sense of the word, a Community Hero. Do you know of someone who deserves to also be recognised for their work in our community?
Nominate them as a Community Hero, by emailing: Shelley@mantramagazines.co.uk –
their story could be featured in an upcoming issue! [/box]