Chicken and Pepper Jalfrezi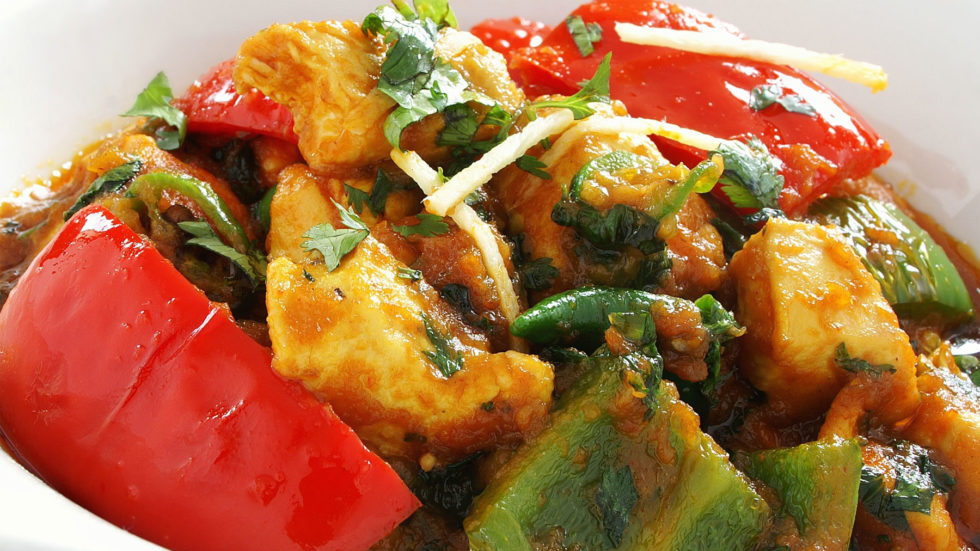 Save a trip to the takeaway, just cook up this deliciously spicy chicken curry instead. Serve with pilau rice, warmed naan bread and some cooling cucumber and mint raita.
Serves 4
Ready in 1 Hour
You Will Need:
1 tsp mustard seeds
1 tsp each ground turmeric and ground cumin
2 garlic cloves, peeled and crushed
1 tbsp grated fresh root ginger
2 green chillies, deseeded and chopped
1tbsp sunflower oil
1 large onion, peeled and chopped
2 tbsp tomato puree
500g chicken breast fillets, cut into chunks
2 red and 2 green peppers, deseeded and
cut into chunks
4 tomatoes, chopped
4 tbsp freshly chopped coriander
Salt and freshly ground black pepper
Strips of lemon zest, to garnish
Method:
1. Heat a heavy-based non-stick frying pan over medium heat and add the mustard seeds. Toast for 1-2 minutes until just popping. Place in a mini-processor or blender with the turmeric, cumin, garlic, ginger and half the green chillies. Add 3 tbsp water and process to a paste.
2. Heat the oil in the frying pan over medium heat and fry the onion and
remaining green chilli for 10 minutes until the onion is soft and golden. Stir in the spice paste, tomato puree and the chicken and cook, stirring, for 3-4 minutes until the chicken is no longer pink.
3. Stir in the peppers and tomatoes and cook for 2-3 minutes then add 300ml
water and bring to the boil. Reduce the heat to a simmer and cook for 20-25 minutes until the sauce has thickened and the chicken is cooked through.
Stir in half the coriander and season to taste with salt and freshly ground
black pepper. Serve garnished with the remaining chopped coriander and the
strips of lemon zest.
TIP – If you don't have time to make the paste from scratch, simply buy a jar of good quality jalfrezi curry paste and use 4-5 tbsp to make the curry.
If you would like to see more of our recipe's click here