Changing Seasons – Here Comes The Sun!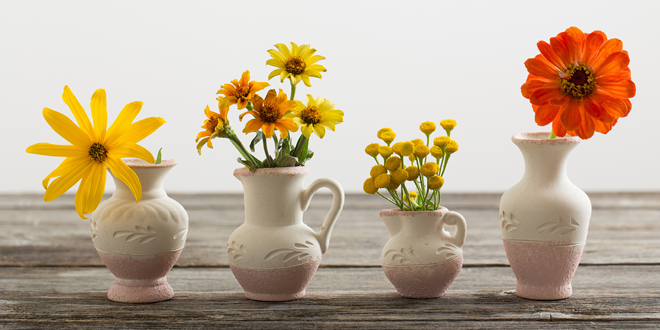 Thinking of accessorising for summer? The warmth of summer is here, so now is the time to add some summery ideas to your interior designing to make sure you change with the seasons!
June sees the longest day, the beginning of the Wimbledon Championships and Glastonbury Festival – all sure fire signs that the height of the British summer is here and we have a listed of the top 10 ways for you to get your home buzzing to the sights, scents and colours of the summer vibe of 2017!
Pare Down
Why not think of your home as a holiday apartment and see it in a new light? Get rid of pieces of furniture and fabrics which are dark or gloomy and stow away those heavy accessories, save the throws for autumn and winter!
Live Natural
Add some organic appeal to your home! Why not consider introducing plants into the home? Some plants will require little care and they will be the perfect addition to a summery table or side unit display – natural equals character!
Dine Colourfully
Meal time is another chance for you to add a splash of colour to your – mix in some bright floral or tropical themes which will ramp-up your summertime look! A great idea is to set-up a small table to create an impromptu bar with bottles.
New View
A fireplace is great focal point during the winter months but why not considering moving your furniture away during summer? Rather than huddling around a source of winter warmth shift the focus to a window or French doors!
Summer Scents
If you like to have a fresh scent running through your home – whether you use candles, infuser sticks or plug-ins make sure you change with the seasons! Evergreen is good for winter but summer should be about ocean breeze!
Garden Fresh
Bring the outdoors in! Freshly picked flowers can do marvels to a home – it is always best to go for arrangements that feature warm colours such as bold oranges and vibrant pinks – save reds and purples for the winter months!
Furniture Update
An effective way to bring new life to old furniture and add a splash of colour is to give a tired chair or table a new life with some summery hues! Make sure you properly prime the furniture before adding tones such as sky blue and grassy green.
Swap Art
If you have a dark wall or two in your home why not add some colourful art pieces? The art does not have to be expensive with affordable pieces available online or from a local charity shop.
One large or several small pieces can do the trick!
Emotional Fabric
The colours we choose can instantly lift a room's mood and in turn yours and that of your house guests. Try bright, botanical prints for 2017 on bedding. Let the patterns shine but make sure to keep the wall colours neutral.
Go Casual
The summer offers opportunities to find unexpected uses for formal serving piece. Mix things up a little and be original, why not try these ideas – a silver try for holding your glassware or plant your herb garden in a champagne bucket!