The Latest Looks for Your Windows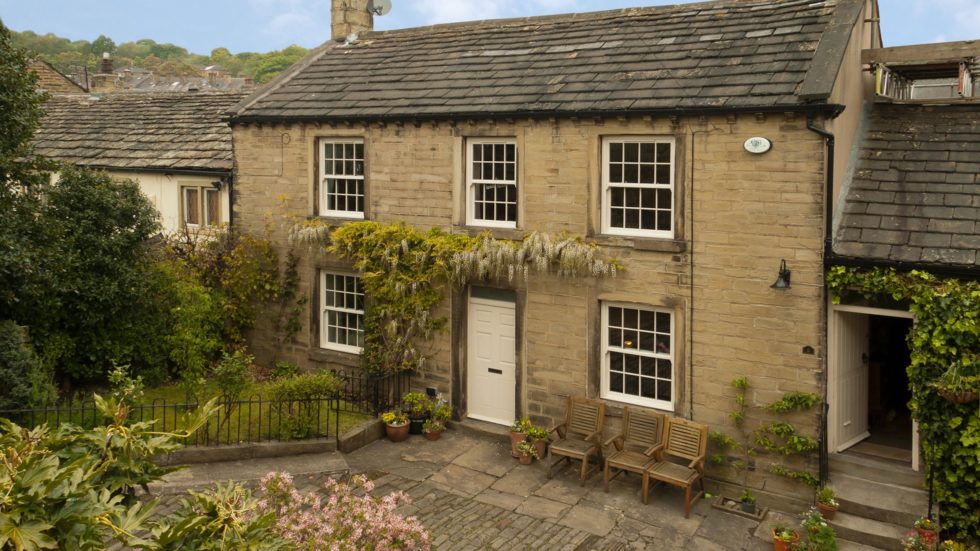 By Katherine Sorrell
There's a world of window fashion available for homes these days, so if your double glazing requires replacing, why not consider a few different options?
Your windows are the 'eyes' of your home, often the most noticeable element of its exterior. From the inside, they are your sources of natural light, they frame your view and (hopefully) they provide you with security and cosy, quiet, draught-free rooms. For most houses – historic buildings being the exception – double-glazed windows are the norm, though some homes these days have triple glazing, which generally provides even better energy efficiency. These windows are sealed units comprising two or three sheets of low-emissivity glass, which reflects heat back into the home but allows light through from outside. Between the layers of glass is either air or an inert gas such as argon, and it's all framed with uPVC (plastic), wood, metal or a mixture of materials (composite).
When choosing double glazing there is much more on offer than white, white or white. Even standard uPVC windows are now available in a range of colours and textures. "The demand for plain white has declined rapidly over the past five years, and the switch over to the contemporary greys and pastel colours has taken a strong foothold," says Graham Lindsay, managing director of Weru UK, which manufactures a range of high quality, high-tech, triple-glazed windows and doors. "Many systems now rank the most popular colour as Anthracite Grey, which has more interesting undertones than a typical pure grey, with flashes of blue and green, depending on the light. There has also been a recent transition to more bespoke unusual shades, edging towards beige greys. These shades are favourable because they can be combined with a wide range of building materials, such as brick, render or cladding."
While standard uPVC windows are still hugely popular, they are seeing stiff competition from metal-framed and composite windows, says Lindsay. Not only can the latter be powder coated in more than 5,000 different shades, but their inherent strength and stability make them ideal for contemporary homes that require very large panes of glass. "While aluminium products are driving the growth, there are extremely innovative hybrid solutions available on the market, which deliver superb quality and unrivalled thermal and acoustic properties," he points out. "At Weru, for example, we manufacture a hybrid alternative to aluminium called AFINO-tec, a combination of PVC and steel that is 25% lighter and allows for a 30% larger aperture than PVCu, making it an ideal option for bespoke, architecturally designed builds that demand larger, stronger glass areas."
Undoubtedly it is best to suit your choice of window to the style of your property, and, while metal and hybrid frames are perfect for contemporary homes, caution is advised in coastal areas, warns Lindsay. "Consider the environment of the project before making any decisions," he says. "As with any metal, a coastal location will offer more of a challenge against the risk of corrosion – which is not an issue with PVCu." And if you own a period home, windows must be sympathetic. "The colour plays a big part," he points out. "Slate grey, along with Farrow & Ball-type colours, would be deemed popular with planning and conservation departments. In very strict conservation projects, such as listed buildings, windows would have to be made in timber and replicate the original look."
Other interesting window choices include timber on the inside with no-maintenance aluminium on the outside, the currently highly fashionable steel-framed (or Crittall-style) window, and even double- or triple-glazed windows that incorporate Venetian or pleated blinds between the panes of glass. Known as 'integrated' or 'interstitial' blinds, these need no cleaning, provide privacy and security, work perfectly when the windows are opened, and come in a range of colours. They can be raised, lowered and tilted, as usual, controlled by a chain cord, magnetic slider, remote control, solar sensor, wall switch or smart home app, and should last as long as the double glazing itself. Often used in offices and other commercial settings, integrated blinds provide a sleek look that means you can focus on the window itself rather than the window dressing – though if you love that softer style then perhaps they're not for you.
BOX Energy Efficient Windows
In the average home, almost 20% of heat loss is through the windows (and it's even worse if they are single-glazed). So if you are considering replacing old windows, what's best to choose?
New windows should help make your house feel warmer and quieter, as well as saving money on fuel bills. The materials used, the type of glazing, the gas that fills the gap between the glass layers, plus other design features, all make a difference to energy efficiency. Window energy ratings (WER) are given in bands from A to G, just like energy performance labels on new fridges, and the minimum to satisfy Building Regulations is band C. Always check the WER before you buy, and opt for the highest rating possible – the government advises that replacing single glazing with A-rated double glazing in the average, gas-heated, semi-detached house could save up to £110 a year (and don't forget you'll be helping save the planet, too). You must either use a registered installer or apply for approval yourself, and make sure you keep your certificate of compliance, as you will need it when you come to sell your house.