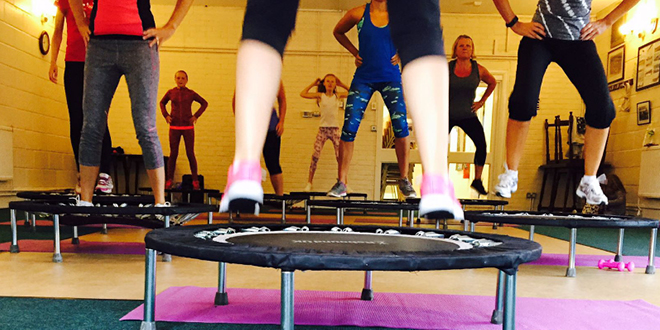 A new kind of exercise has come to Crawley and has everyone jumping for joy
Do you want to put a new bounce into your exercise routine? A new way of getting fit is getting everyone talking at the moment.
It's called Rebound, and even TV's Loose Women have tried it! This exercise class with a difference features a low impact workout on mini trampolines and anyone can do it, say organisers.
One person who says it has changed her life is Kelly Osborne. She is such a fan that she now runs rebound classes in Crawley and Haywards Heath with her friend Debbie Balls.
"I saw my friend had posted something about rebounding on Facebook, so I Googled it and found a class in Henfield," Kelly says.
"I tried it out and absolutely loved it. There was nothing else around like it, so I decided to set up something locally with Debbie, who has a fitness background."
They got in touch with Rebound UK, and after she and Debbie qualified as Rebound instructors, launched local classes in March this year.
"We did a taster session for friends and everyone loved it so we started up Rebound UK West Sussex. I work full-time, and Debbie is part-time so the classes are staying in Crawley and Haywards Heath at the moment, but it would be great to expand further afield at some point."
Kelly says the classes are suitable for all ages and fitness levels. "Everyone can do the workout at their own pace so there is no pressure," she adds.
The hour-long sessions focus on cardio, pulse raising and conditioning to music.
"Rebound focuses on your lymphatic glands and provides a complete all-over body workout. You can burn up to 700 calories in a session.
"I have one lady, Karen, who has been coming to my Crawley classes since I started back in April, who has lost more than two stones with the aid of Rebound.
"Rebound is great on joints as it is low impact, improves your posture, loses inches and generally makes you feel great after each session. It raises your level of fitness, and the good thing is you can do it at your own pace.
"It's great for any age; we have people from early 20s to early 60s coming to our classes. You can see them progressing, and it is amazing. Everyone is so supportive of each other.
"People can relate to us. We are your average women, with jobs and children, but love to run these classes as we want everyone to have a good time while they are exercising – but don't get us wrong, we have a "no pain no gain" attitude!"
Rebound UK West Sussex holds classes at Hazelwick School, Crawley on Tuesdays from 6.00pm – 7.00pm and in Haywards Heath on Monday and Thursday evenings and Monday, Friday and Saturday mornings.
For more details, visit the Facebook page: Rebound UK West Sussex.
By Caroline Hardy